---
Jewels of Vanadzor - MoFA & Paros, a Good Friend
Armenian News Network / Groong
January 31, 2011

Travel Wire
By Ruth Bedevian
VANADZOR, ARMENIA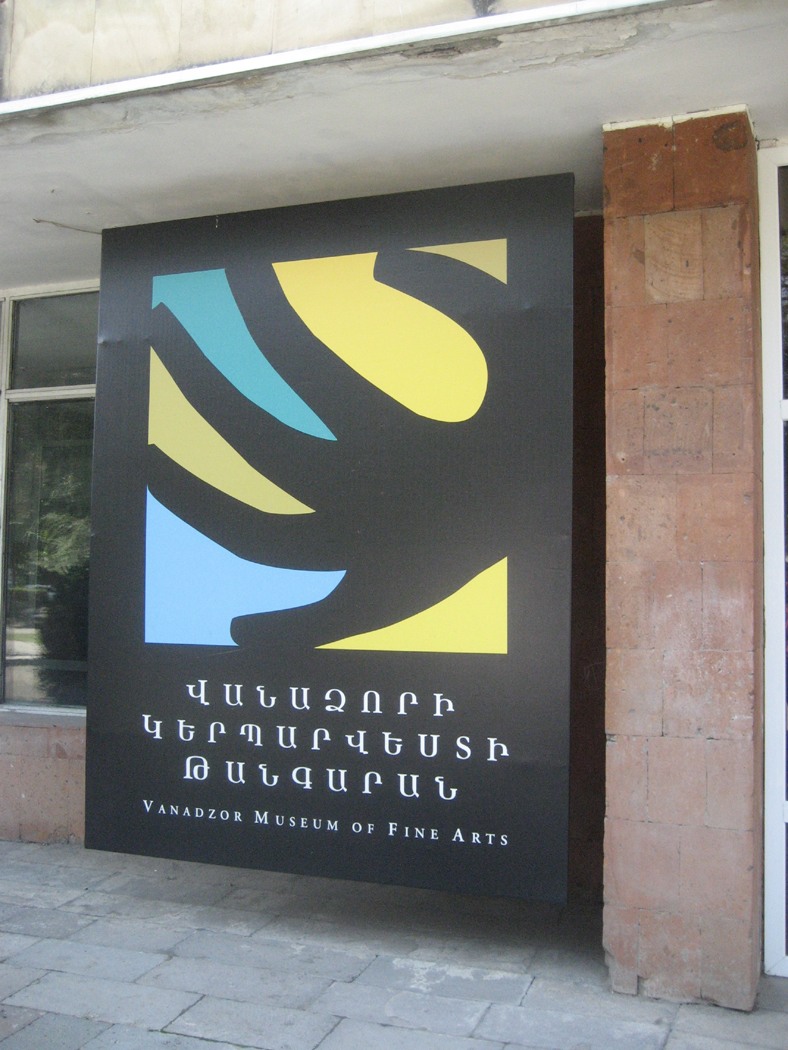 Façade Sign
© Ruth Bedevian

Razmig, our driver, preferred to take "Sevani Jampan" (Sevan Highway) to make the 75-mile-drive from Yerevan to Vanadzor, which rests in the north east section of Armenia in the Lori province where ancient monasteries of Kobayr, Sanahin, and Hagpat still stand to remind visitors of fervent, thriving and erudite Christian history which this ancient, now finally independent Armenian nation offers the world. The country side unfolded before us as we passed farmland and grazing areas dotted with sheep and cows. With the mountains in the distance, the earth was resplendent under the sun-drenched September sky. By doing so, Razmig had given us additional pleasure because we drove through Dilijan and entered Vanadzor, gaining a preview of this picturesque city, a scene not usual for us. Ordinarily we are taken from another route and on first impression we see the abandoned chemical factory which was built in the Soviet Era and which lured a sizeable increase in the city's population. During the 1988 earthquake Vanadzor, capital of the Lori province, suffered damage; but it is slowly experiencing restoration. Statistically the city has the third largest population in Armenia, but rumor has it that it is rapidly matching Gyumri's numbers. Vanadzor residents take pride in their city being dubbed, "The City of Artists."

Papak Aloyan, director of the Vanadzor Museum of Fine Arts and also a painter, with his assistant, Shoushig Sahagian, kindly guided us through interesting paintings and sculptures, while explaining that the museum offers a full range of benefits to the community, serving as an educational resource and research center, providing special tours and classes for students as well as tours for foreign visitors in the Armenian, Russian and English languages. It has also provided its second floor for local concerts where the acoustics are very good. Papak further explained that in 1974 the museum was founded as a branch of the National Gallery of Armenia, but in 1979, it received the status of an independent Museum of Fine Arts with its own collection and has emerged in recent years as a major cultural center in the Lori region. Indeed, the museum is rendering valuable education and exposure for Vanadzor natives. A recent exhibition - a sizeable collection of photographs - was entitled, "China: 30 Degrees of North and Width." According to Shoushig this unique exhibit "revealed the multi-faceted Chinese people - their climate, traditions and cultural life." This opportunity was made possible through the initiative of the Ministry of Culture and the Chinese Embassy in Armenia and had first been shown at the National Gallery of Art in Yerevan before coming to Vanadzor.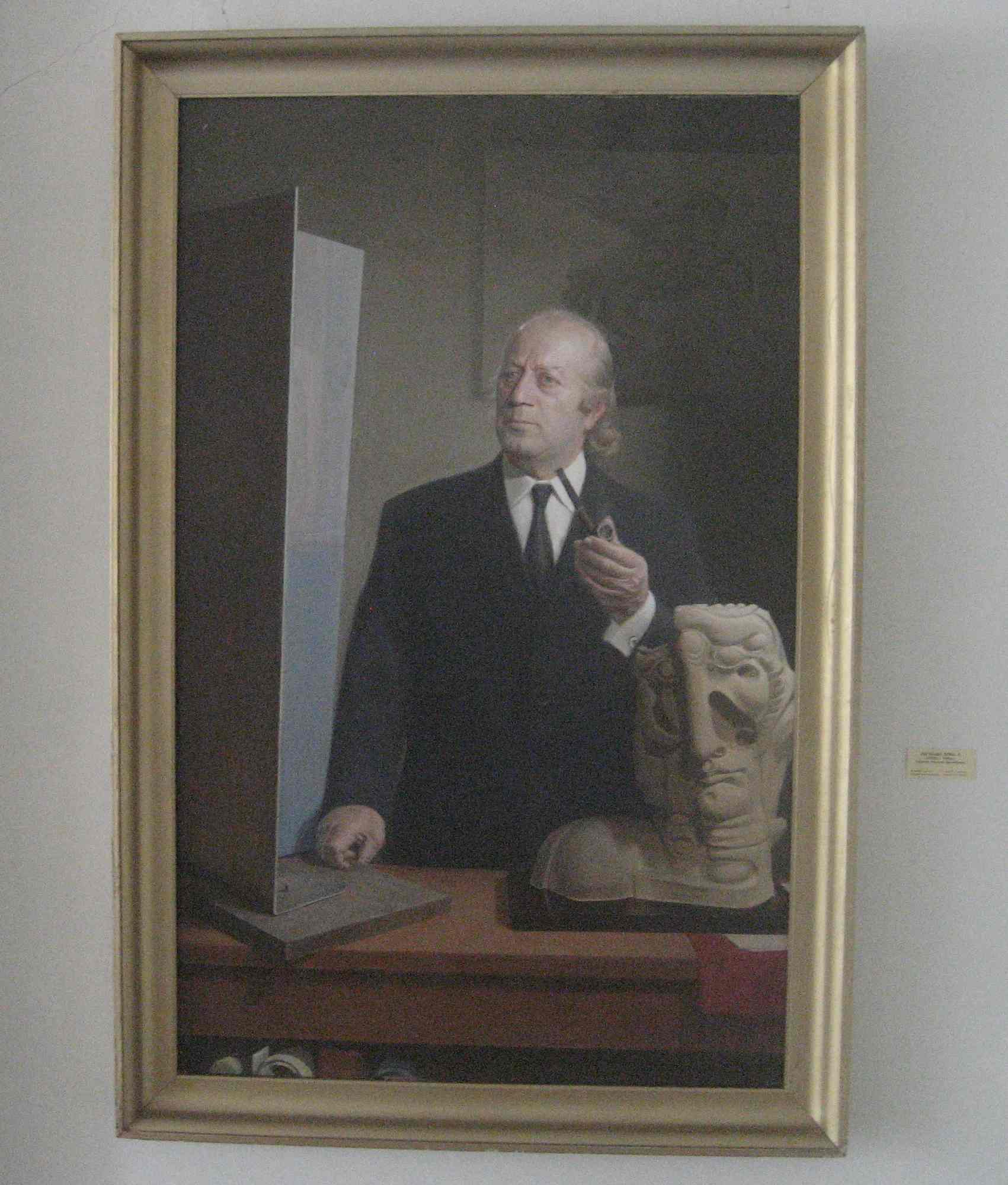 Portrait of Yervand Kochar
© Ruth Bedevian

An exhibition of architecture was not quite ready, but the displays were gathered on the second floor and I was delighted to view them casually - a mixture of images of modern buildings and older, traditional structures, including monuments that show Armenian talent - displays from firms in Istanbul and Doha, as well as Armenia. I was also informed that an exhibition featuring Vanadzor artists was currently being prepared for public viewing.

Thus it was in the Vanadzor Museum of Fine Arts that I viewed plentiful works - paintings, sculptures, prints, drawings and works of decorative arts. I especially admired a portrait of Ervand Kochar by Armen Vardanyan (1923-1985). A series of paintings depicting one of Hovhaness Toumanyan's folk tales was also memorable. Papak confirmed the brochure's statement saying, "The museum houses more than 1700 works of art in its permanent collection..." Most of all, I discovered several Armenian artists whose names were unknown to me. Three in particular caught my interest - Vahram Khachikyan, Hagop Gurjian and Rudolf Loris Khachatrian - whose brief biographies Papak and Shoushig shared with me.

Vahram Khachikyan's two linographs, which he gifted to the museum, greeted me. Born in Megri in 1922, he graduated from the Yerevan Art College in 1942 and in that same year was conscripted for military service during WW II. When the war ended he continued his education at Yerevan State Art Institute. Passionate to pursue his skills, he studied in Moscow and by 1952 had returned to Yerevan as an instructor at his alma mater (Yerevan Art Institute). The public has enjoyed over 200 of his works as part of personal and general exhibitions; his personal drawings have been exhibited abroad. During the Soviet Era he was awarded the titles of Honored Artist of the Republic (1970) and Honored Art Worker (1982). He has held valuable teaching positions in drawing and art at higher educational institutions in addition to his private painting career. He is a member of the Artists' Union, having served as its president.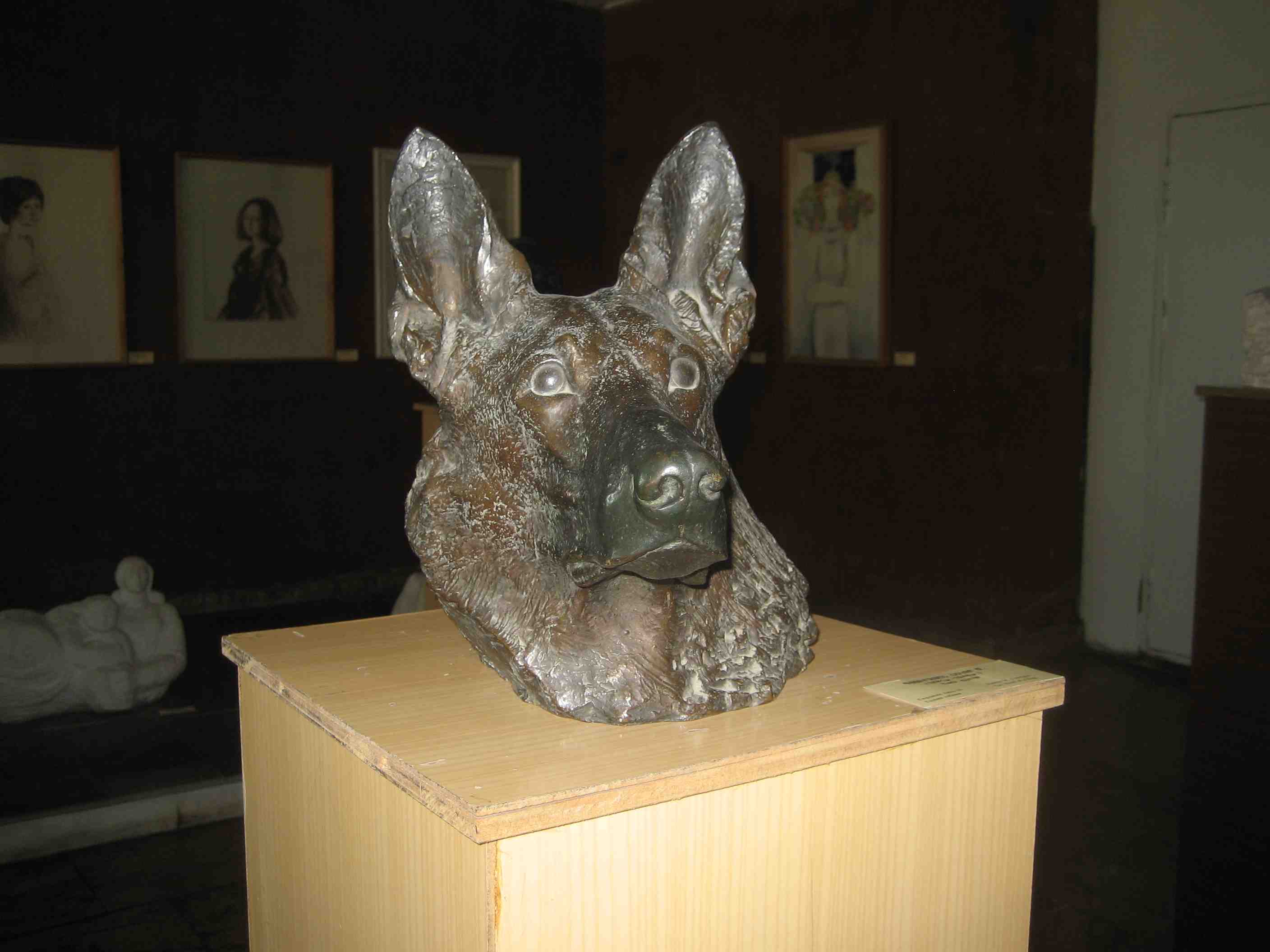 Animal Sculpture by Hagop Gurjian
© Ruth Bedevian

Hagop Gurjian (1881-1948): Still strolling through the first floor, we came to several sculptures by Hagop Gurjian. As a portrait artist and animal sculptor, he worked with several types of material such as gypsum, clay, bronze, marble, etc. Gurjian's early education took place in art schools in Shushi and Moscow before he left for Paris to study at the Julianne Academy and the studio of Auguste Rodin. Thus he lived, studied and worked in Paris for most of his adult life He exhibited his work in New York (1924) and Paris (1926 and posthumously, in 1952). After his death, his works were returned to Armenia. In 2006 the Central Bank of Armenia issued a gold commemorative coin in dedication to the 125th anniversary of Gurjian's birth. According to art critics, his works reveal a combination of the best traditions of ancient Eastern art and modern European art.

Rudolf Loris Khachatrian, ((1937-2007) was a native of Yerevan whose name is known in London and Moscow art circles where some of his paintings are displayed. He was born into a poor family that neither had the interest nor the luxury to foster its son's talent; but genius is never to be stifled and Khachatrian's keen interest in drawing propelled him to greater passion to advance his education and artistic skills. By age 18 he relentlessly followed his passion and found various venues to exhibit his drawings. He also sought out the famous painter and sculptor Ervand Kochar and took drawing lessons from him.

It was at the end of our tour during gracious hospitality, a national characteristic, that I learned more of the growing needs of this fertile cultural center. Over sweets, tea and a timid sip of Armenian cognac, I listened to Papak and Shoushig explain that the museum receives modest financial government support and relies on financial assistance from outside donations as is a common circumstance in the United States. Maintenance for this 5,000 square foot building is a priority, particularly heating, to keep the contents in quality condition. Several improvements have been achieved with the help of the Paros Foundation. It was evident to me as Papak outlined the progress that a warm friendship has grown between the museum staff and the foundation.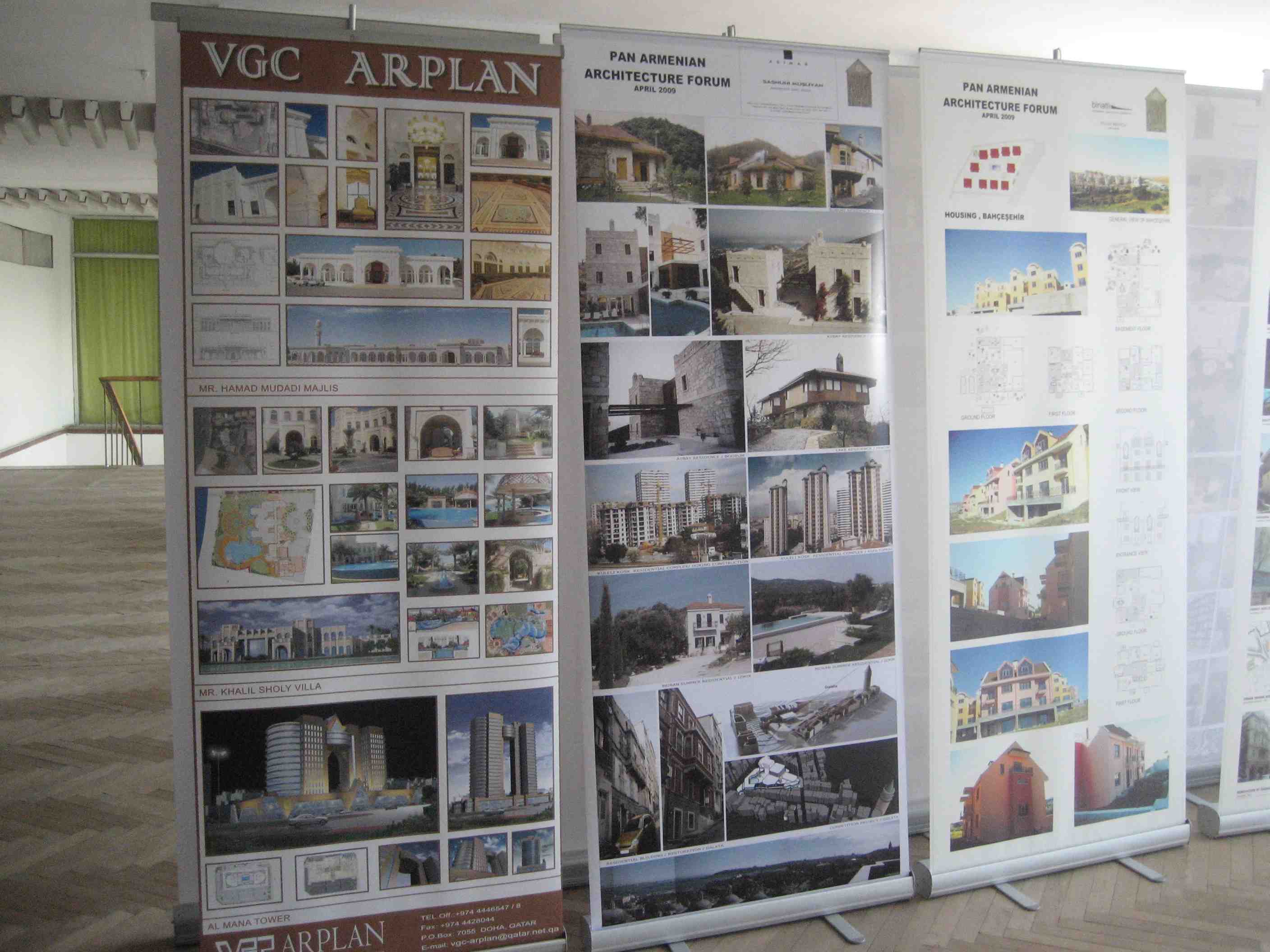 Pan Armenian Architectural Displays
© Ruth Bedevian
The Paros Foundation's relationship with this airy, spacious and cheerful cultural center has made a positive impact on this institution. As early as 1999, the Strauch-Kulhanjian Family was supporting projects to foster Armenia's rich cultural heritage and bring it into global awareness; but it was not until 2006 that the foundation was formally established with its primary focus: the arts, children and people with disabilities. It is a California-based 501(c)3 foundation which provides donor families and individuals with a cost-effective means of implementing their own small projects in Armenia. (It is not to be confused with the Paros "Lighthouse" Foundation whose mission is to give assistance to needy families.)
Over the past several years the financial support from donors' participation through Paros has most definitely enhanced moral support as well. The museum has acquired a kitchenette for use in hosting events and an attractive sign has been added to the fade of the building. It made possible the printing of 5000 brochures in Armenian, Russian and English. Paros helped to facilitate and oversee the construction of a gift shop, which has fostered support of the local economy by promoting tourism to the Lori province and providing local artisans with an additional venue to promote sale of their work and also to support the museum itself. Made possible through Paros by the generous donation of the family of Angela and Karekin Barsoumian in their memory, the museum's gift shop provides a plentiful and quality selection of authentic handcrafted items which are attractively displayed. I particularly enjoyed browsing and found hand-made calendars that were made of wooden blocks and which can be used from year to year - a lasting gift for my grandchildren.
The Vanadzor Museum of Fine Arts is one of several organizations that Paros helps. Other organizations that benefit are: the Manana Youth Center - an after school training program for documentary and animated film production, photography and journalism; Ghoghanj Children's Center for at-risk children in Yerevan; Unison, which provides varied services for disabled people and the museum's neighbor - the Tigran Chukhajyan Art School (formerly Vanadzor Music School #3). Paros helps the school to find sponsors to aid with scholarships and travel expenses for participation in international competitions; it also regularly inspects the building for repairs and recommends necessary improvements to the San Francisco Armenian-American Committee for funding.
Last, but certainly not least, the foundation helps the Paros Chamber Choir - which is composed of disabled musicians. The recent Christmas concert with world renowned tenor, Placido Domingo, held in Yerevan's Sports/Concert complex included the Paros chamber choir members, most of whom are wheelchair bound. They are living proof that despite their handicaps, they are living full, productive lives.
With enthusiasm and appreciation, I left the Vanadzor Museum of Fine Arts desiring to return - truly a jewel and a rewarding experience to have visited. Equally, inspiration welled up in me for the vision of the Paros Foundation and its noble mission and for the goodness of its contributors. Additional Sources:
Elmira Yavryan, Paros In-Country Assistant

--
Ruth Bedevian continues her visits in Armenia. Many of her articles are at:
	http://www.groong.org/orig/armeniahousemuseums.html

Redistribution of Groong articles, such as this one, to any other media, including but not limited to other mailing lists and Usenet bulletin boards, is strictly prohibited without prior written consent from
Groong's Administrator.
© Copyright 2011 Armenian News Network/Groong. All Rights Reserved.
---
| Introduction | Administrative | Posting Rules | Armenian News | World News | Feedback |