---
Alexander Spendiaryan - An `Immortal' Legacy
Armenian News Network / Groong
June 25, 2008
Travel Wire
By Ruth Bedevian
YEREVAN, ARMENIA
---
`There will come a time, when our yet modest student orchestra will proudly bear the honorary title of the Armenian State Orchestra.' So accurate was the predicition of Alexander Spendiaryan in 1924 when he organized an eighteen-member orchestra consisting of conservatory professors and students and launched a concert. That concert established the confidence in this small nation of people that it could create a symphony and attract appreciative and enthusiastic audiences. The following year, on March 20, 1925, Professor Arshak Adamian, Rector of the Yerevan Conservatory, led the inaugural concert of the then newly founded symphony orchestra. [1]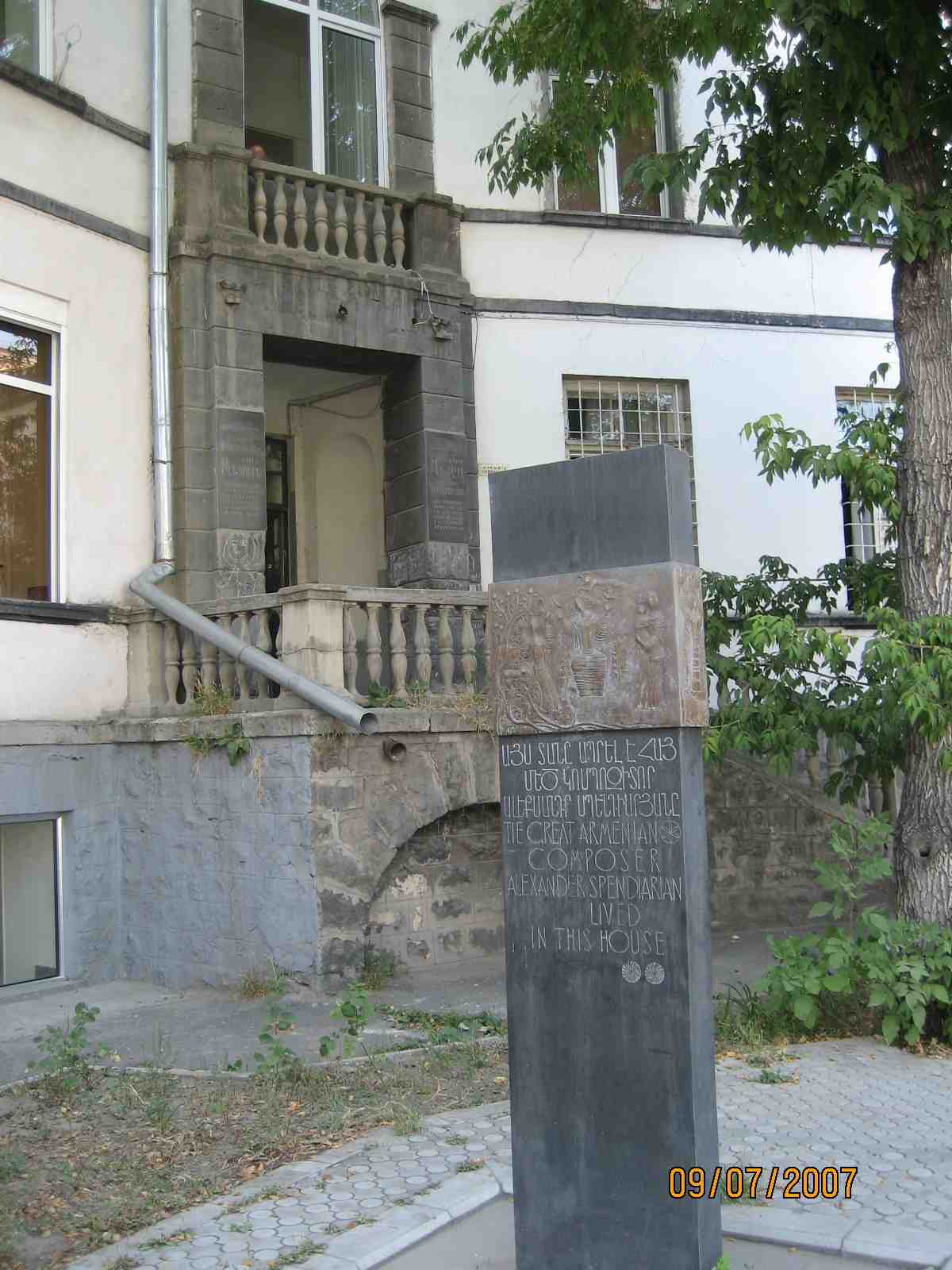 Entrance to Spendiaryan House Museum
© Ruth Bedevian

While strolling the streets of Yerevan, visitors often pass the intersection of Tumanyan and Nalbandyan streets. It is worthwhile to stop and knock the door of the second floor apartment at 21 Nalbandyan Street - the House Museum of Alexander Spendiaryan. During the course of one hour, visitors will be inspired by the achievements of the principal founder of the first symphonic orchestra of Armenia. Aram Khatchaturian (1903-1978) who was to come after Spendiaryan and gain world recognition as a composer, said of his predecessor, "I am profoundly convinced that Spendiarov and Komitas are the patriarchs of Armenian classical music; they have charted the principal trends in the evolution of Armenian musical art for many decades to come." Khatchaturian and Spendiaryan met for the first time in Moscow. Among the displays in the house museum is a photo of a very young Khatchaturian with Spendiaryan and likewise, Spendiaryan appreciated the potential in the young man and predicted that Khatchaturian would be a good composer.

Considered the father of Armenian music, the Opera House located in the heart of Yerevan is named for him. His works include operas, orchestral, and choral works. Born in 1871 in Ukraine to a Ukrainian mother and Armenian father, - whose ancestry originated from Ani, - Spendiaryan was a student of Nikolai Rimsky-Korsakov in St. Petersburg.

From 1900 to 1917 Spendiaryan launched his artistic career in the city of Yalta, the Ukraine, a fashionable resort area in the late 19th century which became under Soviet rule an exclusive seaside resort area for elite proletarian society. He led a musical and dramatic company and in 1910 he became a member of Yalta's Russian Musical Company. A talented conductor, he led concerts in Kharkov, Odessa, Doni-Rostov and New Nakhijevan, making a definite impact on the musical life of those locations. He also appeared in concert in Moscow and Petersburg. He composed a ballad 'The Fishes and Fairy' and many romances and songs. In 1905 he composed the `Three Palms Symphony,' and subsequently toured abroad performing this original piece in Berlin, Copenhagen, New York and elsewhere. In 1916 Spendiaryan performed in Tiflis. At that time he met a variety of Armenian artists: composers Romanos Melikyan and Anushavan Ter- Gevondyan, and painters Martiros Saryan and Yeghishe Tadevosyan, and the prominent writer Hovhannes Tumanyan, whose `The Capture of Tmpkabert' he favored so very much that he decided to write an opera based on the writer's creation. Thus 'Almast' emerged as one of Armenia's brilliant musical legacies.

In 1924, at the invitation of the Soviet Armenian government, Spendiaryan emigrated to Armenia. In the brief time before his death from tuberculosis in 1928, he became a member of the new republic's Science and Art Institute. the leader of its state publisher's musical conducting committee, and an honorable member of the Yerevan Conservatoire Committee. His impact upon Armenian classical music was profound.

He lived and worked in the apartment on the second floor of this three-story house, the first multi-story residence that the famed architect of Yerevan, Alexander Tamanyan, designed for the capital city. The residence opened as a House Museum in 1967. At the opening, `Yerevan Etudes,' which he composed, was played to host the museum's first visitors.

Astghik Haratunian, a student specializing in music theory and history, graciously guided our party (two university students and me) through the modest rooms, relating personal histories. `He was a short, small man, kind and jovial,' she said. `On the 80th anniversary of the Yerevan Music School, his oldest daughter, Maria, last visited the museum.' She continued to explain Spendiaryan's family background. `He was one of two brothers and three sisters. Leonig, his brother, died young. To prevent Leonig's children from growing up fatherless, he married Leonig's widow. Her name was Valentina (ironically, the same name of Alexander's first love - a singer from Moscow, Valentine Eberle) and a distant relative to Aivazovsky, the famous painter. He had three daughters with Valentina. He lived well, enjoying a summer home in Sudak, Ukraine. She explained also that the Soviet government had given him the apartment upon his immigration. Taking us to the small balcony, she continued her narrative, `In the early years before high rise building development took place, residents enjoyed a clear, unobstructed view of Mount Ararat! Photo Image 0229 - View from the Balcony of Spendiaryan Museum - Apartment Five-story building obscures view of Mount Ararat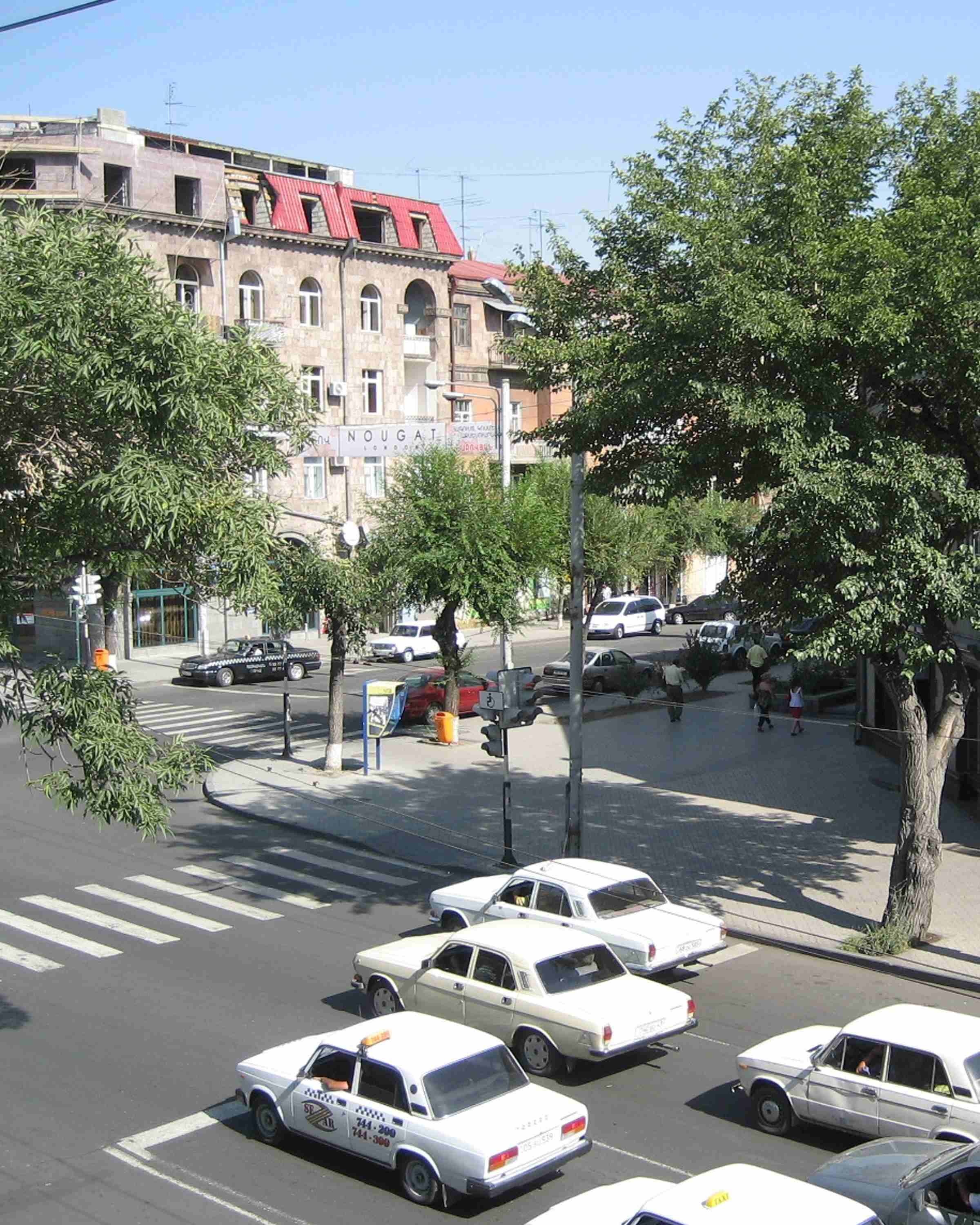 View from the Balcony of the Museum
Five-story apartment building
obscures view of Mount Ararat
© Ruth Bedevian
Spendiaryan was primarily a violinist, but also played the piano. He instructed many students and two of his violins and a piano are displayed in the apartment. Astghik told us that students today who excel in their programs are allowed to play these instruments once as a reward for their excellence.
Moving through the display cases, we viewed a homemade tambourine which he had made from his belt to which he had attached bells. In this way he was able to make the sound of the caravan in his composition, `Three Palms Symphony.' Also displayed is a piece of tenderly written reminisces by his students. A photo of the first symphonic orchestra of Armenia and a portrait of the composer painted by Matiros Saryan in 1967 were interesting items. A poster announcing the opera, `Almast,' as the first performance to open the Opera building (1933) was on display. A bronze death mask of the composer's face and right hand was an intriguing exhibit.
Spendiaryan's repertoire includes many genres, such as the opera, `Almast' inspired by Hovaness Tumanyan's writing, symphonic works such as `Crimean Sketches,' `Yerevan Etudes,' and `Three Palms Symphony.' Other works include `Concert Prelude,' `Concert Waltz,' and `Etude of Jewish Themes.' His chamber-instrumental works include Cantabile and Prelude for the string quartet, `Waltz,' Baracarolle, Minuet, Scherzo, romances and vocal instrumental works. He is most famous for `Almast' which he did not finish. The fourth act was completed after Spendiaryan's death by a Russian composer in collaboration with his students. `Oh Rose' (Aye Vart) was a very famous piece which was sung by many male and female classical vocalists during the Soviet era. From his previous travels through the Caucuses, Spendiaryan was able to incorporate the folklore from other ethnicities into his music. He used traditional authentic Armenian instruments to create his compositions, including the kemancha, thus infusing his work with national originality. Indeed, he created a genuinely authentic contribution of Armenian musical identity and this is his outstanding legacy to the world.
Upon leaving the cozy apartment/museum, I again read the tribute that the revered poet, Avetik Isahakyan paid to Spendiaryan,"What he gave us is immortal.' These six words are inscribed at the entrance. They continue to echo in my memory.
Footnote: Through the efforts of Romanos Melikyan, the Conservatory of Yerevan was established in 1923. One year later, the first Armenian Philharmonic Orchestra, under the direction of Alexander Spendiaryan was formed. The year 1933 marked the birth of the State Opera Theater, and 1938 witnessed the formation of the Song and Dance Ensemble, under the Directorship of Tatoul Altounian.

--
Ruth Bedevian continues her visits in Armenia. Many of her articles are at:
	http://www.groong.org/orig/armeniahousemuseums.html

Redistribution of Groong articles, such as this one, to any other media, including but not limited to other mailing lists and Usenet bulletin boards, is strictly prohibited without prior written consent from
Groong's Administrator.
© Copyright 2008 Armenian News Network/Groong. All Rights Reserved.
---
| Introduction | Administrative | Posting Rules | Armenian News | World News | Feedback |