---
Esteemed Poet - Born and Nurtured in Gyumri: Avetik Isahakyan
Armenian News Network / Groong
December 19, 2006
Travel Wire
By Ruth Bedevian
YEREVAN, ARMENIA
---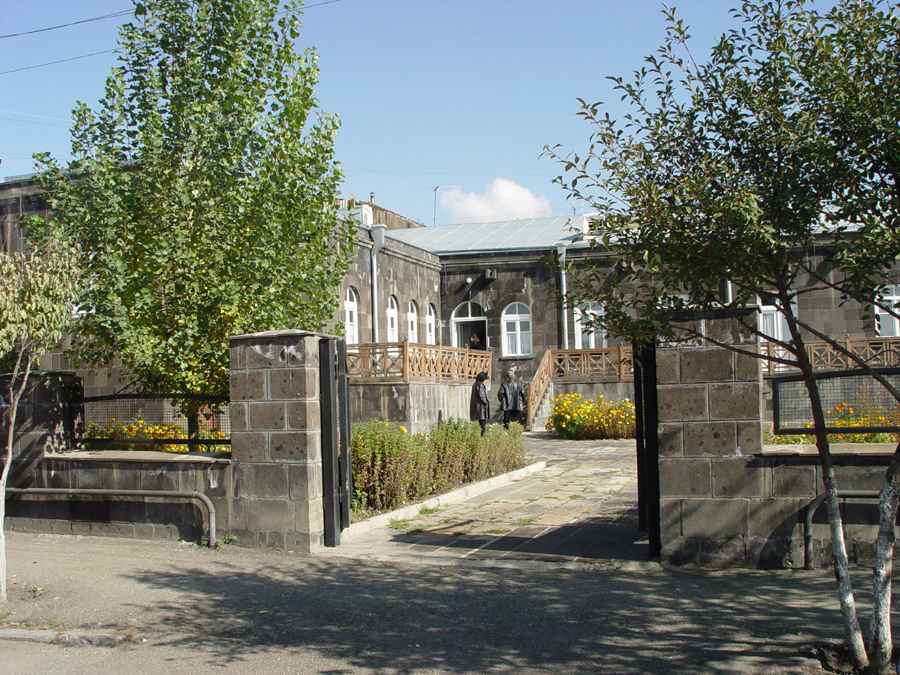 Entrance and courtyard to Isahakyan
House Museum of Gyumri
(© K. Vrtanesyan)
In 1979 a most honored guest, the Armenian-American writer William Saroyan (1908-1981), paid us a visit here in Gyumri (known then as Leninakan), proudly declared Susanna Mnasaganyan, Director of the Isahakyan House Museum of Gyumri. When he saw Isahakyan's desk, he knelt before it, kissed it and said, "Bury me here!"
Lyric poet, Avetik Sahak Isahakyan, who earned the respect of his nation and whose career was long and prolific, is honored with two house museums. The museum in Yerevan is where he lived for the last five years of his life, and the other is in Gyumri on the Street of the Masters - Varbednerou Poghotz, which is practically next door to another renowned poet's landmark - the Hovhannes Shiraz Museum. It is here in this house in Gyumri where Avetik Isahakyan was born and reared. The museum in Yerevan contains an array of memorabilia, but it is the house of his birth where he spent his childhood, that one feels the personal heritage of this great man of letters whose poetry has been generously used as lyrics for music and whose expressive words are recognized widely. It is here in this 19th century built house that one meets Isahakyan intimately.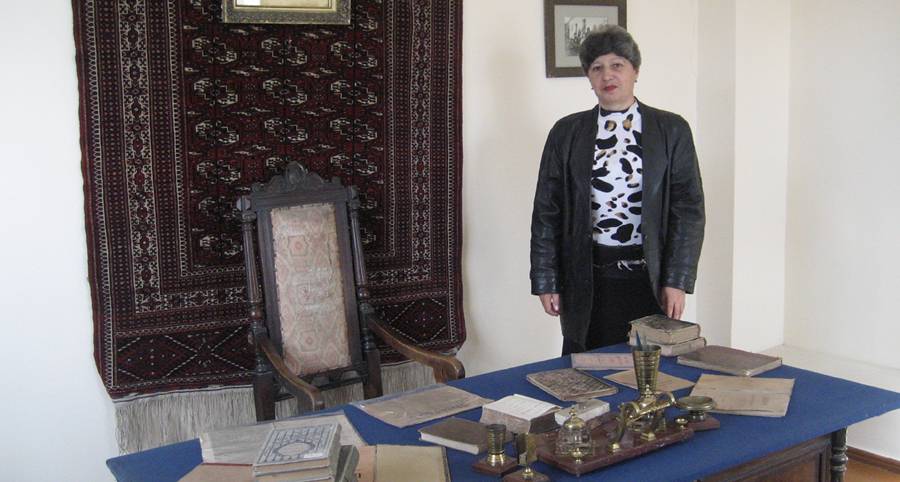 Susanna Mnasaganyan, Director,
standing at the desk of A. Isahakyan
(© K. Vrtanesyan)
One other writer possesses an equal honor and that is Hovhannes Toumanyan (1869-1923) whose boyhood home museum is located outside of Vanadzor and another in the capital city of Yerevan. Like Toumanyan, who was nurtured in the Lori region and absorbed the ancient folklore of Gougark, Isahakyan was nurtured in the Shirak region (which at the time of his youth, included the medieval capital of Ani). His imagination was kindled by the folklore of the wandering minstrels (ashughs). Isahakyan also grew up in the climate of tension at the border. Armenians in the Russian dominated Alexandropol (later to be named Leninakan under the Soviets and then returned to its original name Gyumri), formed groups to help their brothers and sisters across the border under Turkish domination. Isahakyan's brother, Aleksan, and also a relative of his sister's husband were actively involved. Their experiences and activities fired up the patriot in this would-be writer.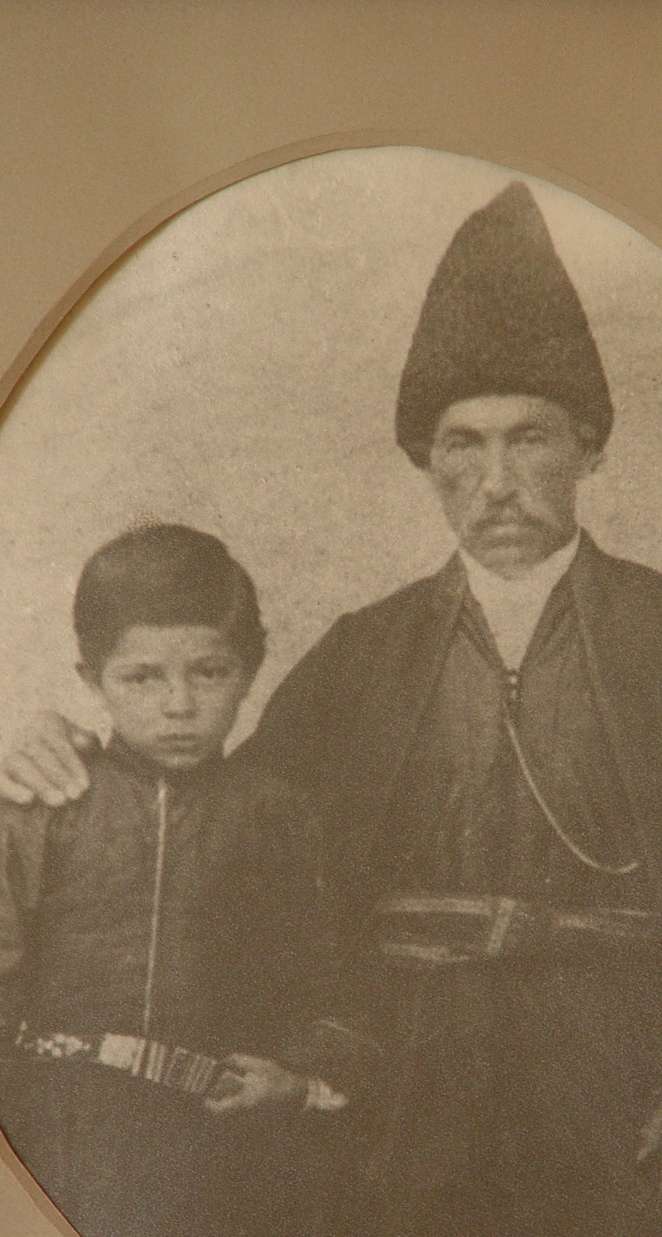 Maternal grandfather
and Isahakyan
(© K. Vrtanesyan)
The museum suffered huge damage during the 1988 Earthquake and was too dangerous for use. Thus it was closed for 14 years, reopening in 2002. While repairs were pending and finally completed, the contents of the home were stored in Yerevan. The house is divided in two parts: Isahakyan's boyhood home where he was born and raised and his uncle's home where presently Isahakyan's works are displayed.
Susanna continued to enlighten us: On the 100th anniversary of his birth, in 1975, this house was converted into a museum. Isahakyan's grandfather had built the house in 1829. Avetik, the youngest of seven children (four boys and two girls), enjoyed a privileged childhood as the family earned a good living as millers and owned some farming property as well. Upon completing elementary school, he went to the nearby monastery of Harich from which he graduated in 1889. He then entered the prestigious Gevorkyan Seminary in Etchmiadzin.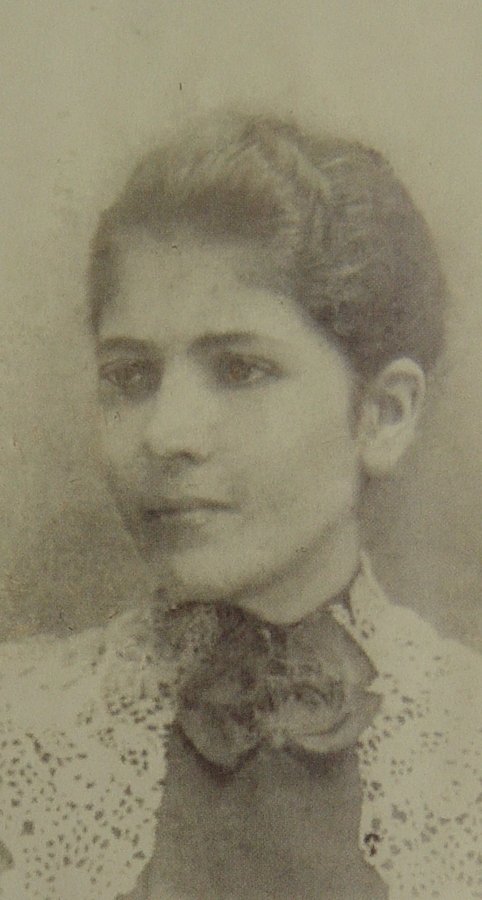 Shoushan
Isahakyan's "First Love"
(© K. Vrtanesyan)

It was at Gevorkyan that he was influenced by his mentor, Hovhannes Hovhannesyan who discerned the budding poet in his student. Young Avetik was inclined towards a career in agronomy, but his innate talents were directing him elsewhere in these formative years. Isahakyan also established a friendship with a classmate, Derenik Demirdjian (1877-1956). In subsequent years in Tiflis, both men became charter members of the famed Vernatun (Upper Room), a writers group initiated by Hovhannes Toumanyan. It is of interest to note that Isahakyan never completed his course of study at Gevorkyan, withdrawing in 1892 at age 17. At this critical juncture, he went abroad and audited courses of study at Liepzig University in Berlin. In these early years in Germany, young Isahakyan's intellectual horizons widened.

Several photographs were interesting, but one in particular revealed the personal story of an adolescent first and unrequited love that Isahakyan held for Shoushan Metakian (1877-1944). At 16, Isahakyan was smitten with this 14 year old beauty who was a distant relative on his mothers side, the niece of his first cousin. Crushing news came to him while he was in Germany. That Shoushan had married a much older man devastated him and it was widely known that he carried her in a corner of his heart the rest of his life. In one of his journal entries he stated that he would never marry. He wrote a poem, pouring out his heart, entitled, Mountain Flowers Weep My Anguish. He was to eventually marry a woman named Sophie over a decade later (1910) and their marriage produced one child, a son who was named Viken. His wedding took place in Ani. As Susanna remarked, his heart was in Ani.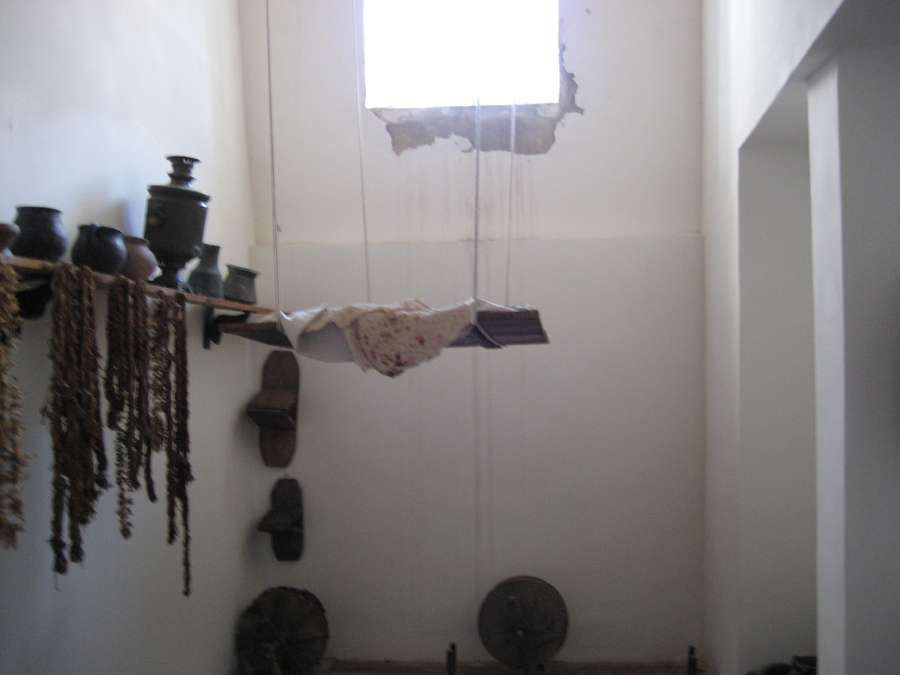 Bread storage suspended
to keep away mice
(© K. Vrtanesyan)
Susanna led the way to the parents' bedroom, and then to the kitchen where original kitchenware was displayed. We viewed a storage room and a separate room adjacent to it where the family tonir (underground oven) was located and in which the family's baker prepared the bread. This gave another indication of the family's comfort. It was interesting to see how the bread was stored. It rested upon a flat surface that was suspended from the center of the ceiling. In this way hungry mice were not able to nibble away! We were able to take only a peek into the last room as it is under restoration. It is devoted to the poets works and translations into over 100 languages. The Isahakyan museum originally was a subsidiary of the Charentz Museum. Susanna told us that in 1997 jurisdiction of the museum was passed to the city of Gyumri.
By 1895 Isahakyan had returned to Gyumri and joined the Armenian Revolutionary Federation (Dashnag Party), actively participating in aiding Armenians in Western Turkey to fight against the Ottoman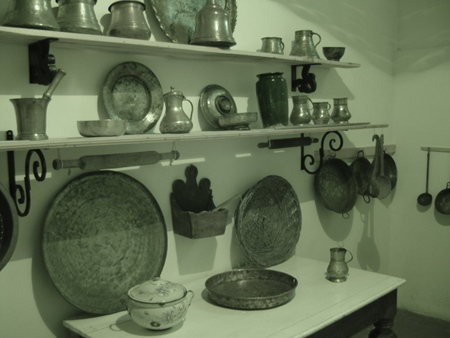 Original Kitchenware of
the Isahakyan household
(© K. Vrtanesyan)

government. He subsequently was arrested and spent a year in Yerevan's prison. Released in 1897, he was soon arrested again for his activities against the Tsar's government and was sent to prison in Odessa. Upon release, he went abroad continuing his studies in Zurich, Switzerland. He was not to return to Armenia until 1902, but his stay was short-lived and he soon moved to Tiflis. In 1908 Avetik Isahakyan was one of over a hundred Armenian intellectuals who were arrested and sent to the Metekha prison of Tiflis. Upon his release, he criss crossed Europe and finally stayed for a while in Germany, joining a German-Armenian movement and editing that group's journal, Mesrob. Between 1926 and 1936 he lived in Armenia, but restless, yet again, he chose to live abroad between 1930 and 1936 (in Paris). Finally he returned to his homeland and permanently settled, attaining prominent positions within the Soviet Armenian government, becoming instrumental in the creation of the Armenian Academy of Sciences and serving as Chairman of the Writers Union from 1944 until his death. The literary prize for poetry was established in his honor in Erevan in 1980. His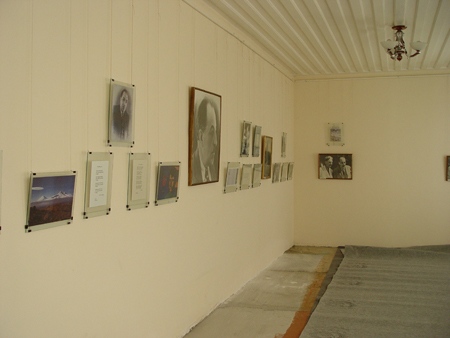 Final Room - Under Restoration
(© K. Vrtanesyan)

image appears on the 10,000 dram bill. His poetry is filled with patriotism, compassion for the suffering of his people, love and sorrow. "Abu-Lala Mahari" (1909-1911), is considered by literary critics as his masterpiece. He left a fertile legacy too large to mention herein, but some very well-known works are "Yerker ou Verker" (Songs and Wounds), "Im Hogin" (My Soul), "Mayrigis" (To My Mother), "Gisher" (Night), "Gouzes Linem" (You Want Me To Be), "Hayrenikits Herou" (Away From My Fatherland), and "Dariner Hedo" (Years Later).

Isahakyan is buried in Yerevan's Artists Pavilion, and excerpts from Abu-Lala Mahari are engraved upon his tombstone. But it is this House Museum of his birthplace that is a truer resting place. It is where his spirit is felt and is indeed a pride for the people of Gyumri.

--
Ruth Bedevian continues her visits in Armenia. Many of her articles are at:
	http://www.groong.org/orig/armeniahousemuseums.html

Redistribution of Groong articles, such as this one, to any other media, including but not limited to other mailing lists and Usenet bulletin boards, is strictly prohibited without prior written consent from
Groong's Administrator.
© Copyright 2006 Armenian News Network/Groong. All Rights Reserved.
---
| Introduction | Administrative | Posting Rules | Armenian News | World News | Feedback |