---
Armenian Patriarchate of Jerusalem Has New Grand Sacristan
Armenian News Network / Groong
January 25, 2013

By Arthur Hagopian
JERUSALEM
---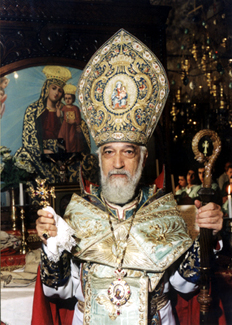 Abp. Sevan Gharibian

Armenian priests, members of the Brotherhood of St James of Jerusalem, have cast their votes in favor of Archbishop Sevan Gharibian as their Patriarchate's new Grand Sacristan, the second most important and prestigious position within the church after the patriarch.

The move follows the election of the former Grand Sacristan, Archbishop Nourhan Manoogian, as the city's 97th Armenian Patriarch.

Born in 1940 in Beirut, Gharibian was ordained priest in 1968 and elevated to the rank of a prince of the church in 1988.

For the past few years, he had been managing the Patriarchate's financial affairs.

Despite a marked sense of humor, Gharibian is a man of action who prefers to eschew dilly-dallying and cut quick to the core of a matter.

With him by the side of the equally determined and strong-willed Manoogian, there is every reason for confidence of a stable if not bright future for the Armenians of Jerusalem, surrounded as they are by a plethora of problems, chief among them the political uncertainty in which the region has been wallowing for decades.
---
| Introduction | Administrative | Posting Rules | Armenian News | World News | Feedback |