---
Armenians of Jerusalem Planning Reunion
Armenian News Network / Groong
March 25, 2008

By Arthur Hagopian
JERUSALEM, ISRAEL
---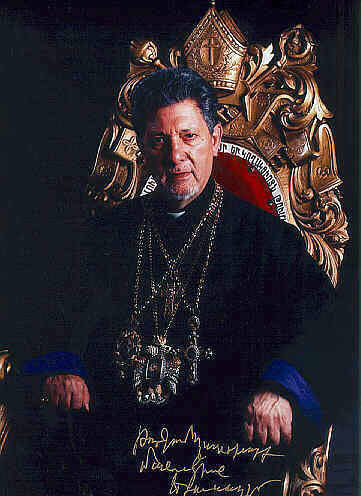 Patriarch Torkom Manoogian
of Jerusalem
Armenians in the diaspora who originally came from Jerusalem are planning a reunion in the city of their birth over the course of this year and the next, seeking to relive for a brief spell, the heady days of their youth in the hallowed confines of the sacred Old City.
They will be travelling mainly from North America and Australia, in time to attend the Armenian Easter ceremonies in the Holy Land which will be held towards the end of April.
(The Armenian church in Jerusalem follows an ancient calendar, the "hin domar," which postdates Christmas and Easter several weeks after Western churches).
In embarking on their pilgrimage, the Jerusalemite Armenians are responding anew to the open invitation, "Come to Jerusalem," issued by Archbishop Torkom Manoogian, the Armenian Patriarch, several years ago.
In issuing his call, Patriarch Manoogian, who ascended to the throne of St James on a platform of perestroika spiced by refreshing winds of change, is looking not only to renew to strengthen Jerusalem's ties with the diaspora, but also to re-invigorate and re-inspire his community that is doing its best to survive in the political minefield surrounding it.
Among the grandiose plans he has drawn up is a blueprint for a fully-equipped hostel to be constructed on land it owns near the Patriarchate, for the convenience of Armenian pilgrims.
The plans still languish on the drawing board - but the determination to bring them to fruition has not lagged.
The pilgrims who will congregate in the Armenian compound in Jerusalem know they are in for a pleasant but painful sojourn: they know things have changed drastically in the city in the intervening years since their exodus. In the first place, most of their friends and relatives are no longer there, having either passed away or shipped out, and the way of life of the "good old days" is disappearing gradually.
The odd "falafel" and "ka'ek" (bagel covered with sesame seed) vendor may still ply his trade in the cobblestoned alleys of the Old City, but the diminutive trader in "apples from Damascus" and "melons from Jericho," who ferried his wares on a grouchy mule, or the glass-eyed vendor of "dandurma bouza" (ice-cream) from "Haifa and Tel Aviv" whose melodious singing delighted passersby have long passed into history.
And where have all the "munajjed"s gone, those venerable wizards of the (outsized wooden) "harps" called in by frustrated housewives to breathe new life into collapsed mattresses, by strumming their instruments with an oddly shaped mallet?
The Armenian compound's favorite "character," the gentle Penyamin who loved cats and believed there were aliens on the moon, and the incomparable "lahmajoun" baker "Menesh" have also long departed, leaving behind nothing but fond memories.
Some of the Old City's famous landmarks have been transmogrified beyond recognition. "Hakouret el Bashashteh," a mound of earth and dirt that often served as a rubbish dump, has been commandeered and converted into a block of flats by the Israeli government, a fate that also befell the sprawling dairy run by "Miger" (Megerditch Bedevian).
And the "agoump" (club) that ""kaghakatzi"" (native) Armenians called their second home, is little more than a ghost town now. But the Tarkmanchatz parish school that educated almost every single Armenian to come out of Jerusalem, the majestic cathedral of St James and the church of the Holy Archangels, site of the house of Annas, are still standing strong.
As are the sturdy houses built by "kaghakatzi" ancestors. With walls a meter thick, the structures have weathered wars and fires and storms, in addition to the odd earthquake. Though far from laying claim to architectural excellence, they have served their purpose well, providing shelter for generations of "kaghakatzis" many of whom would later opt for emigration to the West.
Many of the pilgrims next year will be descendants of those builders whose origins are shrouded in mystery. (A new web initiative currently underway, dubbed the "Kaghakatzi Armenian Family Tree Project, located at http://www."kaghakatzi".org, aims to trace back their history and preserve their culture).
The ""kaghakatzis"" have made significant contributions to life in general in Jerusalem but ironically, they have been prohibited by an obscure church edict from participating in the life of the church as clergymen.
Yet despite this hindrance, the "kaghakatzis" can lay claim to have provided at least two patriarchs to the St James throne.
According to research conducted by the "kaghakatzi" Family Tree project, the two were Giragos Mnatzaganian and Harutiun Vehabedian.
The archives of the Armenian Patriarchate do not assign a family name to Giragos, but researcher Haig A. Krikorian puts it down as "Munatzaganian."
A descendant of a brother of Giragos, London-based teacher Apraham Mnatzaganian, states that information he had been given as a youth corroborated the existence of both patriarchs in the ancestral Mnatzaganian line.
His claims are buttressed by Queensland-based Ardavazt Minassian, a distant relative.
Giragos was born in 1783 and ordained a celibate priest in 1807. He was consecrated bishop in 1815 and elected Patriarch in 1847, he reports.
The tales of the two "kaghakatzi" sources differ slightly in the details. According to Ardavazt, two brothers had originally come to Jerusalem in the early 1800s from Persia. Apraham raises the number to 4.
"The story I was told in my childhood was that there were 4 brothers that arrived in Jerusalem from Tchoogha (Djolfa near Ispahan)," he says.
Ardavazt reports that from 1825 to 1834, Giragos was posted to Egypt where he fostered a Moslem boy and converted him to Christianity, giving him the name Harutiun.
Harutiun, born 1819 (his family name had been changed to Vehabedian) went on to become Patriarch of Jerusalem himself, from 1886 to 1889. He had been ordained in 1850 and bishop in 1860.
"He was very successful in buying a lot of land and property for the Armenian convent," Ardavazt says.
He notes that Patriarch Giragos died in 1850 under suspicious circumstances.
According to Apraham, of the three other brothers who came to Jerusalem, one established the family line to which he belongs. "The 4th disappeared, probably went West," he adds.

--
Arthur Hagopian is a Jerusalem Armenian and has worked at the
Patriarchate as Press Officer and personal secretary for His Beatitude
Patriarch Manoogian. He has worked for major news organizations like
Reuters and AP, and holds a MA in educational administration,
authoring, web development.

Redistribution of Groong articles, such as this one, to any other media, including but not limited to other mailing lists and Usenet bulletin boards, is strictly prohibited without prior written consent from
Groong's Administrator.
© Copyright 2008 Armenian News Network/Groong. All Rights Reserved.
---
| Introduction | Administrative | Posting Rules | Armenian News | World News | Feedback |