Armenian News Network / Groong
---
Harpoot and Mezereh: A glimpse into the way it was in 1956 when Ruth Azniv Parmelee, M.D. visited.
She had worked in both places ₋ first from 1914 to 1917, and then from 1919 to 1922.
Armenian News Network / Groong
October 3, 2017
---
Special to Groong by Eugene L. Taylor and Abraham D. Krikorian
LONG ISLAND, NY
Introduction
Interest is increasing especially on the part of those whose heritage is Armenian, or part Armenian, or simply interested in the region, to learn more about the "Old Armenia" environment from which grandparents or great grandparents or friends, made their way to America.  All too often the connections remain distant and very remote.  Efforts to reconstruct are inevitably frustrated, and as the older population who know things, pass away, one ends up getting a distorted view of how the total destruction of the Armenian presence occurred.  Yes, of course it happened, but it took a bit of time after the violent uprooting of the Armenian population.
We have an opportunity to learn details from of a description of the immediate area by someone who knew it well, Dr. Ruth Azniv Parmelee.
Not that long ago, a very interesting film entitled "The Blue Book, political truth or historical fact", was produced by Gagik Karagheuzian under the aegis of a small company "Ani Sounds."  The film was narrated in part by David Holloway, and showcased very nicely some of the work of archival historian Ara Sarafian in London.  The film is about 80 minutes long and well worth watching.  Our guess is that funding to carry out the needed post-production work on this film properly, and to market it as aggressively as it deserved to be did not materialize.  Clearly, it should have been widely distributed.[Endnote 1]
In the 2004 film, Ara and Gagik go to Lake Goeljuk, and Harput and vicinity.  They see that there is very little to remind anyone anywhere that there had been a substantial Armenian presence in the region. The filming underscores this dramatically, and the camerawork presents wide panoramic views to show that what was once there is no longer.  Some ruins, not many.
So much for going back to Harput to see the place where ancestors breathed the air, lived, walked, worked and played.
To start with, we were personally unaware of any detailed reports describing what 'Harput' was like immediately after the Genocide and Deportations.  Only one young woman survivor 'gher'atsi' [villager] from ADK's parents' village of Keropeh returned briefly in 1918 and found nothing.  She related later when in America among other survivors comparing notes of experiences, that much of the village had deteriorated and fallen apart.  Outsiders had come in but hadn't done anything to renovate.  No one else from Keropeh had any desire to go back to the homeland, the erg'irr.
We will not go into details here regarding what we have learned, and the perspectives we have gained by reading letters written back home by American and other relief workers as to what they found in 1919 when they went to Harput and elsewhere.  (We have related some of what transpired on our Groong subsection.)
Many years later, well beyond 1919 to 1923 however, we encountered a 1959 article that was written by Colonel George Juskalian.  It was introduced with the header "The Prodigal Son Returneth."  The catchy title was "Harput Revisited" (see The Armenian Review vol. 11, no 1-45, spring pgs. 3-14).  In it Colonel Juskalian tells of a November 1958 visit made while serving in the military to the birthplace of his father.  The trip to Harput was part of a side trip to his assignment in Iran. 
Colonel Juskalian describes his visit in some detail and relates meeting a few Armenian families, but when all was said and done, he concludes on his departure, and we quote: - "As the plane took off and circled it passed low over Harput.  In a glance I saw the rock ledges and cliffs, the ruins, the fortress, the mosques and the minarets, the scattered dwellings, a few people here and there.  This was all that remained of a once thriving community."  [One of us, ADK, contacted Juskalian by telephone quite a few years ago, and unfortunately today recalls very little from the conversation (no notes were taken).  ADK queried him particularly about the Fabrikatorian brothers' 'row mansions' that were once in Mezereh but Juskalian did not recall anything in that connection.  He thought there was possibly a statue of Kemal Ataturk in the area that I did my best to describe.  Juskalian did not recall encountering any grave sites where American missionaries might have been buried in the upper city.
It will be apparent as we read Dr. Parmelee's account below why these questions were of some interest.  ADK's answer to the possible query from a reader "Why don't you go back and see for yourself" is simple.  "Why should I go there and essentially monetarily feed the hand of the descendants of those whose ancestor's bit the hands of my ancestors?"]   Besides they did a lot more than 'bite the hands.'
General Map of the Area
The map below (Fig.1) shows the six Vilayets of Turkish Armenia towards the end of the 19th century.  This general perspective remained the same until the war was over.  Here, on this easy to study outline map, one can see the general geographical layout of the area that Dr. Parmelee recognized as the region in which she worked first as a Medical Missionary, and then as a relief worker.  Of course, the Armenians who once lived there would know these regions and areas.  People from these regions called themselves and were called by other Armenians "Vane'tsis, Sepastia'tis, Bitlis'tsis, Dikranagert'tsis" - not Diarbekert'tsis etc.  That is, "we came from Van, Sepastia [Sivas], Bitlis, Dikranagert" etc.
<![if !vml]>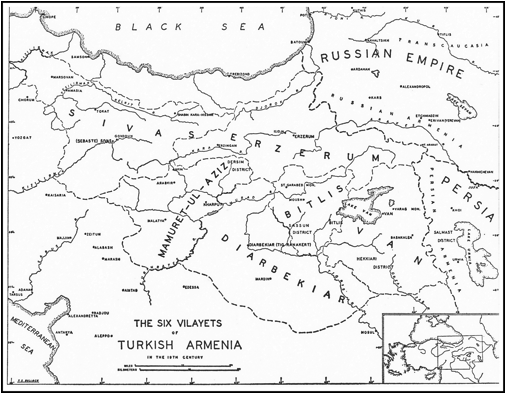 <![endif]>
Fig. 1
Outline map of the Six Vilayets of Eastern Asia Minor that comprised 'Turkish Armenia.'
From The Armenian Revolutionary Movement; the development of Armenian political parties through the nineteenth century by Louise Nalbandian (University of California Press, 1963, facing pg. 68. permission.)
The seemingly peculiar spelling of Diarbekiar is not an error.  It was occasionally spelled that way and Diyarbakir as well.
We will now provide the all-too-short description of Dr. Parmelee's visit back to Harpoot.  Our recent September 20, 2017 posting on Groong made just before the present one, provides many relevant photographs.  The 'American Hospital' photos are especially informative.
We sincerely thank the Hoover Institution Archives for giving us free access to the Ruth Parmelee materials from which this account derives.
"VISIT to HARPOOT, TURKEY"
"(In Province formerly called Mamuret-ul-Aziz)"[Endnote 2]
June, 1956
"Harpoot, a city situated at 4500 feet, overlooking a fertile plateau, had been occupied for many years as a mission station of the American Board when I first went there with my mother, a retired Turkey missionary, to begin work as a medical missionary.  This was in 1914, a few months before Turkey mobilized for the First World War.  We traveled in a southeasterly direction from the Black Sea port of Samsoon, riding over very rough roads in a horse-drawn spring wagon [called a yaili in Turkish].  By measure on the map (as the crow flies), this distance covers 2-3/4 inches and it took fourteen days to make the trip, setting up our folding canvas cots at night in khans or inns, which were unspeakably dirty and unbelievably primitive.  In June, 1956, I traveled by plane with my fellow missionary, Miss Marguerite Bicknell [which Parmelee breaks into 2 stages] (1) [See endnote 3] from Izmir on the Aegean coast to Ankara (4 ½ inches on the map) in two hours; (2) from Ankara to Elazig (formally called Mezereh) in 2 ½ hours (3-3/4) inches on the map) - a total of eight map inches, with no fatigue.
"The city of Elazig (capital of the province now called by this name) has grown and become somewhat Western, what with its various modern transportation facilities - railroad, bus lines and airplanes.  The hotels, however, must be classed as third class and the roads could certainly be improved, to great advantage.  The peasants seem to be living in much the same way as before.
"There are taxis on hire and we procured one to drive up the steep hill with its hairpin curves, to old Harpoot and the missionaries' summer garden 1 ½ miles beyond the old city.  We passed a few buildings at the top of the hill, but we could locate the site of Euphrates college only by piles of rubble, where, in the old days, some half dozen large buildings had commanded the view for miles distant.  (See picture in "What Next in Turkey" by D. Brewer Eddy, published in 1913.)
[Note: Although Dr. Parmelee recommends referring to the photograph in the Eddy volume, it is too small and of poor quality.  We have opted instead to include a rare postcard with a view of the City from the West rather than the photo in Eddy – see Fig. 2.]
<![if !vml]>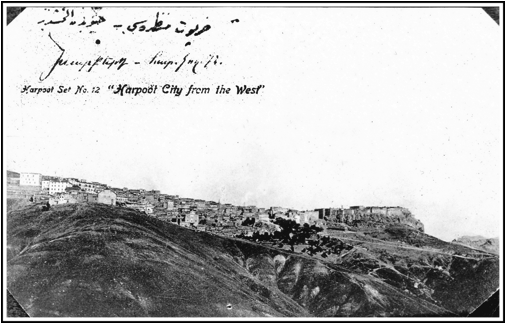 <![endif]>
Fig. 2
Postcard with view of Harput from the West.
From the K.S. Melikian Collection, now in the Library of Congress.
"We could only conjecture that such buildings, lying vacant and neglected, must have suffered in addition to destruction by the elements, the pilfering of those who were seeking timber to use as fuel.  Outside the city, there was only a dusty trail for the car to bump over, to come to the "garden" or summer home, where years ago, missionary families could get their children away from the dust and heat of the city, and yet not too far for the adults to go to their work in the city.
"The present owner of this property, Osman Keokju by name, took us around what is left of the houses and called a relative from a nearby garden to come to see us, an aged Turk of the old school.  Interestingly enough, this old man with a sweet, friendly face, rattled off the names of old-time missionaries - Barton, Wheeler, Barnum - and said that for a time he had been watchman and been entrusted with the keys of the two houses.  The smaller residence has disappeared, as well as the further third of the larger house, but we climbed up to the closed-in porch and I showed my companions the room my mother and I had occupied during the summers of 1914 and 1915.  (Miss Harriet Yarrow had come by train from Izmir and joined us in Elazig.)
"We walked down the hill, a little way from the fountain with its steady stream of cold, spring water, to the missionary cemetery, which has been respected by the Turkish owners and where the graves are shaded by trees and flowers.  The stone markers have not been interfered with and, as a matter of fact, the one over my mother's grave has only recently been set up, through the help of American friends in the region.  We stood and had a little prayer service, giving thanks for the lives of these fellow workers of past years and asking that we might "follow in their train."
"The Annie Tracy Riggs Hospital is now being used as a government hospital for mental and nervous cases.  Its capacity has been increased to 650 beds by the construction of some temporary buildings and by setting the beds exceedingly close together.  In the front yard, a number of trees have been planted and the red paint on the main buildings made them difficult to recognize.  But I took my friends upstairs to show them my bed-sitting-room, where I was accustomed to hold classes for the nurses and meetings for the staff.  The house which used to be the missionary doctor's residence, is now used for offices.  And on the second floor, our attention was called to a number of book-shelves filled with English books, most of which had been brought down from the Euphrates College Library.
"We glanced at some of the books - there were sets of classic literature, old religious and theological books, and an abridged Webster's Dictionary – and lo here was one with my own name in it!  This was "What Next in Turkey" by D[avid] Brewer Eddy, purchased by me in 1913, the year of its publication.  The Director, Dr. Yazuju, was kind enough to give me this book as a souvenir of my visit there, and said that if he received an official request, he would be willing to turn over to the proper owners not only the books but also a bronze bust of Crosby H. Wheeler, founder of Euphrates College.
"I might add that at its Annual Meeting in Aleppo, a couple of weeks later, the Near East Mission voted to send an official request for the books and the bust, to be disposed of, as would seem best.
"The one redeeming feature about our hotel in Elazig was its flat roof, where we [the three of us] sat in the evening and enjoyed the full moon, until time to go to the railroad station for our midnight train for Diyarbakir ("Region of Copper", name changed from Diarbekir, "region of Bekir.").
Ruth Parmelee, M.D.
(Stationed in Harpoot, Turkey, 1914 – 1922)
Commentary
Our first comment is that there seems to have been, unwillingly or willingly put in place years ago a plan for the region that may be called a "destructive strategy."
We may ask today "How can there be an accurate story told about the place if very little or nothing of its former, historic self is left?"  To use a phrase borrowed from a journalist who we would call in our old-fashioned jargon "a squirt," the discernible reality of the Harput/Elazig region vis à vis the Armenians who once flourished there are concerned is nil.  In other words, the reality is what you choose to say it is.[5]
There certainly was major change evident when Dr. Parmelee and her two friends visited in 1956 after having been away since 1922 (when Dr. Parmelee was 'kicked out' of Turkey) and this dramatic alteration of the landscape has, today, progressed further still.
In 1956 we can say that there was still some signs of what was once there in Kharpert but today there is nothing.  To put it bluntly, there has been gradual but dramatic re-engineering of the appearance of the region.
Even more so than when Dr. Parmelee visited the area, today, especially as a result of inundation due to building of dams, there has been a massive rearrangement of the general regional topography.  Much of the 'Old Armenia' of the area is no more.[6]
Our conclusion has to be that there is a completely new history that goes with the area.
We have been both astonished and amused when we have been confronted with the expressions "creative forgetfulness" and "creative liberties with the truth" but both do apply to what has happened so far as those with an 'Armenian perspective' are concerned.  (See Chris Hedges at [Endnote 6] for an excellent discussion of what has happened to historical scholarship.)
The map below with Elazig in the center, shows the Keban Dam project and how it has altered the entire area (see Fig. 3).  (See also our April 23, 2016 posting on Groong entitled "Armenian Immigrants Rebuilding their Lives in America" at http://www.groong.org/orig/ak-20160423.html.  That posting focused on Armenians from the now, long-flooded and inundated village of Ashvun, Ashovadan in Armenian.)
While it is not surprising to note the courtesy with which Dr. Parmelee and her friends were received, we will merely say that it does not cost anything to be civil, even cordial.  After all, they were Americans and Dr. Parmelee spoke the language.  The hosts certainly were secure and had the upper hand.  No one was being challenged or confronted.
It is interesting that the missionary graves were not disturbed in 1956.  We wonder what the situation is today.  (The graves of the "Hubbards of Sivas", we were told some time back by visitors, are not intact.)
What Dr. Parmelee related has not, we admit frankly and freely, elicited one whit of feeling that there is anything terribly worth seeing and learning from at Harpoot/Elazig.  If there was, then we admit it has totally eluded us.  We see little to gain in breathing the air that our ancestors breathed, and walking on the soil they treaded, and the soil they died on.  Besides, and to be facetious, the air is more than likely not as fresh as it was; more than likely substantial pollution is present.
We feel obliged to digress just a wee bit here.  We again admit freely and with no intent to boast, that we know too much and perhaps see too many connections.  We have wondered, for instance, whether Dr. Parmelee or her companions read the New York Times article published on Oct. 20, 1946 entitled "Genocide is the New Name for the Crime Fastened to the Nazi Leaders" by Waldemar Kaempffert, a well-known science writer.  He wrote a fine article, and to quote "Attempts at wholesale extermination of a population and the transmutation of its culture had been made before,,,The Turks in their time did their best to destroy the Armenians."  Kaempffert continues "In Professor Lemkin's formulation genocide is the result of a conspiracy.  It should be punishable not only by an international court but by the courts of any country to which a defendant may have escaped.  "…"If Professor Lemkin has his way…a prohibition of genocide should be included in treaties of peace soon to be signed."
Concerning this last statement, the Armenians of 'Old Armenia' might say "Asdv'adz lusseh!"  May God Listen!
<![if !vml]>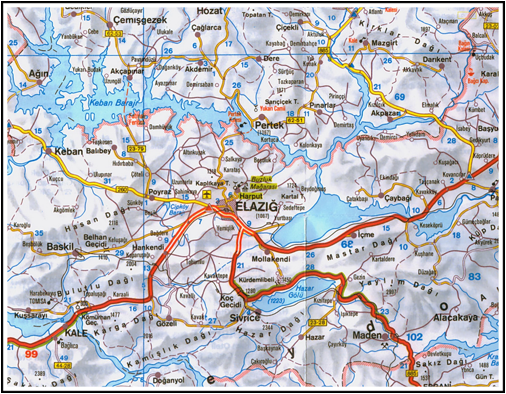 <![endif]>
Fig. 3
A fairly recent map showing the area. Hazar Golu, directly below Elazig on the map, is the infamous Lake Goeljuk,
infamous to Armenians at any rate, where mass murder of thousands of Armenians were carried out brutally.
See our April 7, 2017 Groong posting entitled "United States Consul Leslie A. Davis's Photographs of Armenians Slaughtered at Lake Goeljuk, Summer of 1915" at
http://www.groong.org/orig/ak-20170407.html
The next four photographs (Figs. 4 through 7 were kindly made available to us by a Dutch fellow we know only through his work on the Internet named Dick Ossemans after we contacted him by email long ago.  He is a superb photographer and has done much very interesting photographic work throughout Turkey.  These photos were taken by him from upper Harput 'mountain' looking downward onto the plain below.  The first photograph (Fig. 4) focusses on the slopes going down to the plain below.  The boulders remain of course.  The other photos show us how unattractive a seemingly sprawling urban area has emerged from what was once a quiet rural provincial capital.
<![if !vml]>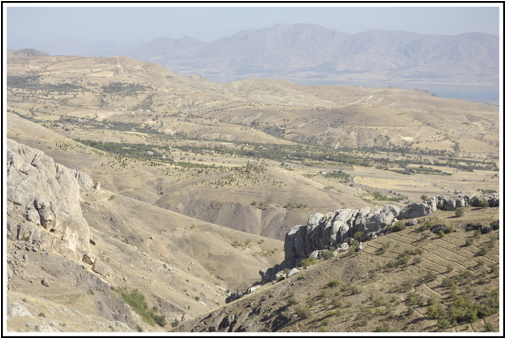 <![endif]>
Fig. 4
Photograph courtesy of Dick Ossemans.
<![if !vml]>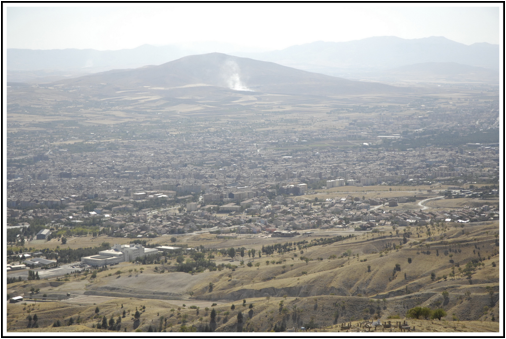 <![endif]>
Fig. 5
Photograph courtesy of Dick Ossemans
<![if !vml]>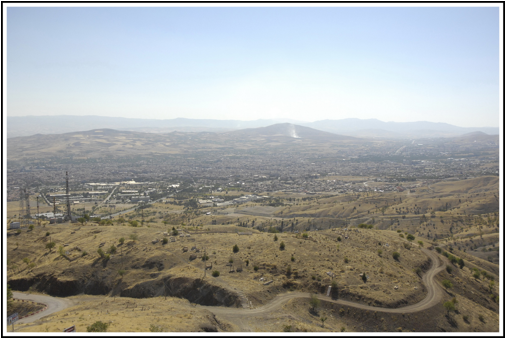 <![endif]>
Fig. 6
Photograph courtesy of Dick Ossemans
<![if !vml]>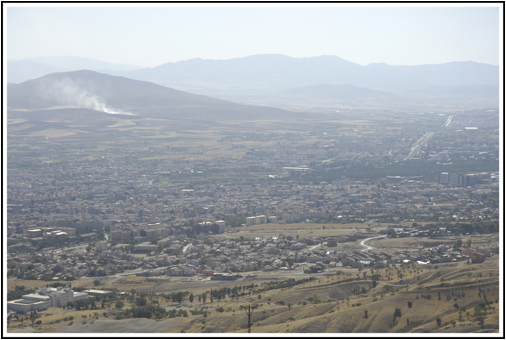 <![endif]>
Fig. 7
Photograph courtesy of Dick Ossemans
From the perspective of publicists and researchers such as ourselves, the kinds of things that might have interested us at Kharpert/Mezereh seem to be no more.  For example, the impressive houses of the Fabrikatorian brothers seemed likely to possibly be among those structures that might have survived.
The patriarch of the family, Krikor Ipekjian [ipek means silk in Turkish], was born in Arabkir (Malatya caza, which is in Mamuret ul Aziz, Armenian Kharpert).  He later adopted the surname of Fabrikatorian and learned the silk trade in Juni (Jounieh), located north of Beirut, Lebanon.  He returned to Arabkir, married, moved to Mezereh to set up a business in silk.  We are told he died in 1902 and his five sons took over the business.(Endnote 7)
We have read that after the brothers were murdered in the Genocide one of the fine houses was taken over by the Vali of Mamuret ul Aziz, Sabit Bey.  (We provided a photograph of Sabit Bey in our September 29, 2017 posting on Groong.  (See Endnote 8).  The only place we have seen that information on the appropriation of the house of one of the Fabrikatorian brothers is in the volume "Farewell Kharpert, Autobiography of Boghos Jafarian", edited by Leon Mangasarian and with supplementary Chapters by Claire Mangasarian, 1989, pgs. 100 to 102.  There are photographs of the houses included in that work but it makes the error that K.S. Melikian was the photographer.  He was not the photographer but the photograph was from his collection.
<![if !vml]>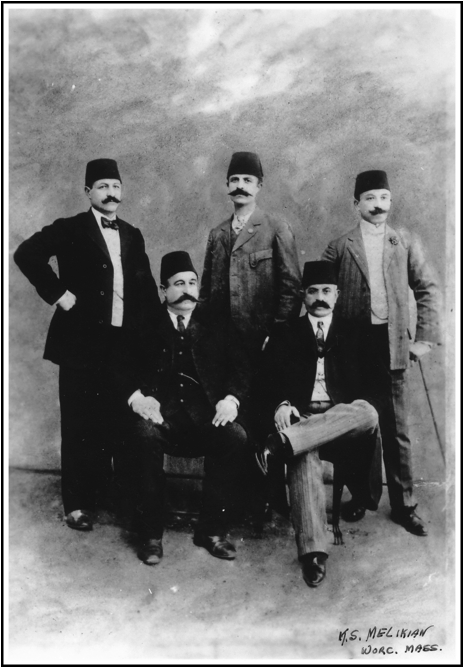 <![endif]>
Fig. 8
The Fabrikatorian Brothers.  Their names were Minas, Dikran, Samuel, Garabed and Aharon.  Identifications in the photo are uncertain.
This photograph was reproduced on pg. 642 of Vahe Haig' book but it is severely cropped to 'bust' level.
The same may be said of a similar but different crop of the photo on pg. 154 of Antranik Poladian's Patmatiwn Hayots Arabkiri
[History of the Armenians of Arabkir, 1969] and on pg. 101 of "Farewell Kharpert" (see Endnote 7).
Photograph from the K.S. Melikian Collection now in the Library of Congress.
<![if !vml]>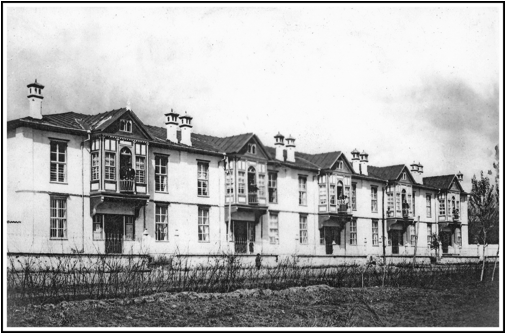 <![endif]>
Fig. 9
The block houses of the Fabrikatorian brothers in Mezereh.
Photograph from the K.S. Melikian Collection now in the Library of Congress.
This photograph was reproduced on pg. 643 of Vahe Haig's 1959 book on Kharpert and her Golden Plain.
<![if !vml]>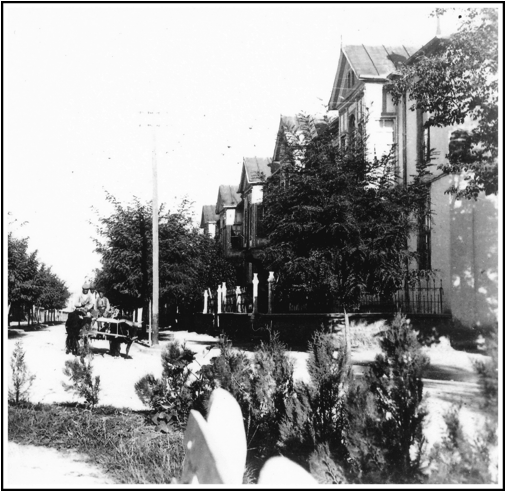 <![endif]>
Fig.10
Another view of the block houses of the Fabrikatorian brothers in Mezereh.
Crop from a photograph from the K.S. Melikian Collection now in the Library of Congress.
<![if !vml]>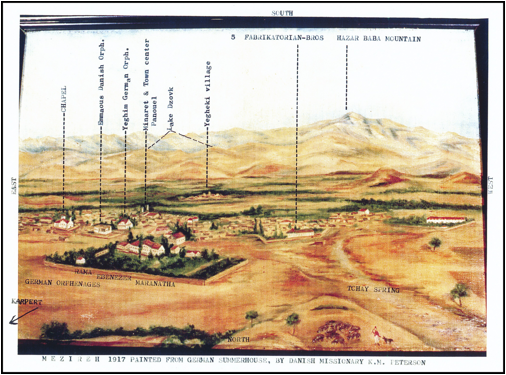 <![endif]>
Fig. 11
Photographic copy of a drawing of Mezereh (she spells it Mezireh) by Danish missionary Karen M. Petersen.
The typed caption beneath the framed photograph states that it was made in 1917 as seen from the German summerhouse.
The location of the Fabrikatorian brothers' factory is pointed out as are other places of interest, like Yegheke village where photographer Kazar Sarkis Melikian, was born.
Note the idyllic and deceptively peaceful view.
We received the photograph shown in Fig. 11 some time back but are embarrassed to say we cannot recall who sent it first.  It was either from the late Karekin Dikran of Aarhus Denmark, who wrote a number of very interesting entries on the Danish missionaries in Mezereh (see Danish Peace Academy) or Missak Kelechian, then still in Beirut, and now in California.  We did a bit of research on the photograph at the time we got it and learned that it had been used on the cover of one of the booklets put out by the KMA in Copenhagen.  We forget which and cannot easily find the paperwork related to it, but it turned out that there was only one copy of it in the USA listed in WorldCat and that was in the New York Public Library.  It was in such poor shape that it could not be loaned.  That is something else to put on our "To Do" list!
We take a final opportunity to draw attention to a photograph that we have encountered in at least one of the many books we read and try to study and integrate into our brains.  In a contribution by Wolfgang Kunz, a German photographer, entitled "Spurensuche.  Auf den Weg der Armenier in Tod und Verbannung" [Tracking. On the Roads of the Armenians in Death and Banishment.  East- Turkey, East Anatolia"] we find a photograph on pg. 61 [Endnote 10 for details].  See Fig. 12 below.  We are told she is an Armenian who had ended up in the Der Zor killing fields in the course of the "deportations" and was Islamized.  She holds a framed photograph of the Fabrikatorian brothers, one of whom was her Father, and the other four her uncles.  Likewise, the houses that we show in Fig. 9 are in the lower part of the framed picture.  The caption given by Kunz mentions nothing about the Fabrikatorians by name.  In fact, somehow or other (perhaps poor translation from Arabic or whatever) it says their home city was Tekirdag.  Not so, their patriarchal connection was first in Arabgir, and then the family mainly operated out of Mezereh.
<![if !vml]>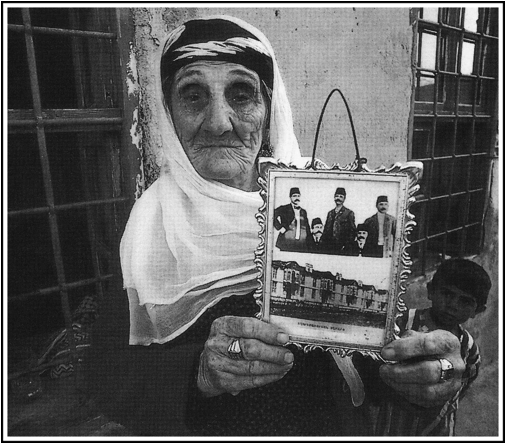 <![endif]>
Fig. 12
This Armenian woman of great age who originally went by the name Surpouhie Papazian.
She endured the perils and horrors of Der Zor and became Islamized and entered into an Arab family.
In Worcester, Massachusetts ADK recalls one Lucy Chiligerian who was related to the Fabrikatorians in one way or other.  Someone should check this out.[See Endnote 11.]  It emphasizes the opportunities lost or in process of being lost.
This woman also played a major role in helping journalist Robert Fisk and his photo-journalist colleague Isabel Ellsen locate a large number of remains – bones, skulls – Margada in the Syrian Desert where mass murders of Armenians took place.
See YouTube "Robert Fisk, Exposes Turkish Crime against Humanity excerpted and posted March 18, 2015
https://youtube.com/watch?v=044tPCvGEWk
Final Word
We have made it clear that we are interested in the "Armenian connections."  For us, essentially none can derive from present-day Harput and Elazig.
Endnotes
[1] Retyped from poorly typed copy in Hoover Institution Archives, Ruth A. Parmelee Papers, Collection number 74099, Box 3 #74099-8.10.
[2] "The Blue Book, Political Truth or Historical Fact", a documentary by Gagik Karagheuzian, 54 minutes long.
See http://www.anisounds.com/bluebook/the-blue-book-ac.html.  Trailer may be watched at  https://www.youtube.com/watch?v=fVLJNtHuYu8&feature=youtu.be
[3] Biodata for Miss Marguerite E. Bicknell and Miss Harriet Yarrow obtained from American Board and Personnel Card File ) Istanbul) at http://www.dlir.org/abpcc-search-name.html
[4] The volume is now digitized and is accessible at https://archive.org/details/whatnextinturke00eddygoog - See page facing 126 for a small photograph showing the Euphrates College buildings and pgs. 113- 119 for an overview of the Eastern Turkey Mission.
[5] Creative Forgetfulness with Chris Hedges and Eric Foner
https://www.youtube.com/watch?v=lX0ar575Qq0
[6] We have read some early statements that there were once some 300 Armenian villages in Kharpert province [nahank in Armenian].  Nowadays one can say that the figure is closer to one fifth the number if one considers that names and at least a bit of history of the people who once lived there are available.  It would have been a worthy project for someone to attempt a full listing.
[7] See pg. 154 for a photo of the Fabrikatorian brothers in Antranik Poladian's edited work on Arabgir published in 1969.  It is a massive 1018 pgs. long and was published under the auspices of the Arabkir Union Inc., New York City.  Dr. Bedross Der Matossian's "The Armenian commercial houses and merchant networks in the 19th century Ottoman Empire" published in a journal devoted to Turkic studies Turcica vol. 39, 2007 pgs. 147-174 includes an interesting overview of the Fabrikatorian establishment on pgs. 158-159.
[8] For a group photograph that includes Sabit Bey, the Kurdish Vali of Mamuret ul Aziz see Fig. 32 in American Missionary Physician Dr. Ruth A. Parmelee Describes The 1915 "Harpoot Deportations": With Appendix Of Some Rare Imagery From Our Files To Complement What She Wrote; Included Is The Infamous "Deportation Proclamation" by Abraham D. Krikorian and Eugene L. Taylor on Groong September 29, 2017.
[9] See "Armenian Master Photographer Kazar Sarkis Melikian Collection and Melikian Photo Studio Work Donated to the Prints and Photographs Division of the Library of Congress.  K.S. Melikian's Daughter Mary Christine Melikian Passed Away 22 September 2015 (unexpectedly and peacefully) the morning after an "open letter of thanks" to those involved in the project had been completed." by Abraham D. Krikorian and Eugene L. Taylor,  Armenian News Network / Groong October 15, 2015.
[10] Wolfgang Kunz (1994) "Spurensuche.  Auf den Wegen der Armenier in Tod und Verbannung" pgs. 45 – 87 in Armenier und Armenien: Heimat und Exil [Armenians and Armenia: homeland and exile (Tessa Hofmann, ed.) Rowohlt, Reinbeck bei Hamburg.  One should not forget the today irreplaceable photographs in the multilingual work entitled [we present it here in English and will not give it in Armenian, French Arabic or Russian] "Album:  Routes and centers of annihilation of Armenian deportees in 1915 within the boundaries of Syria" by Robert Jebejian (Aleppo, Syria, Violette Jejebian Library, 100 pgs.)  God only knows to what extent the sites photographed  remain intact in war torn Syria, see pg. 9 of the work to see the genesis of the project and its implementation.
[11] See no. 20 for Lucy Chilingarian in "A 1935/1936 Season Sunday School Photograph Taken by Kazaros Sarkis Melikian at the Armenian Church of Our Saviour, Worcester, Massachusetts: putting a face on a group photograph of first-generation American Armenian youngsters through a heroic effort to identify them." by Abraham D. Krikorian and Eugene L. Taylor, Groong March 20, 2016 at http://www.groong.org/orig/ak-20160320.html.  Other Chilingarian kids are at nos. 98 and 190.
Redistribution of Groong articles, such as this one, to any other media, including but not limited to other mailing lists and Usenet bulletin boards, is strictly prohibited without prior written consent from Groong's Administrator.
Copyright 2017 Armenian News Network/Groong. All Rights Reserved.
| Home | Administrative | Introduction | Armenian News | World News | Feedback |