Armenian News Network / Groong
Guests
<![if !supportLists]>● <![endif]>Benyamin Poghosyan
Hosts
<![if !supportLists]>● <![endif]>Hovik Manucharyan
<![if !supportLists]>● <![endif]>Asbed Bedrossian
Introduction
Hello, and welcome to the Armenian News Network, Groong, Week in Review. This show was recorded on Monday, June 6, 2022.
I'm Asbed Bedrossian together with Hovik Manucharyan.
Before we begin the show, we need you to do a couple of things for us.
Please Please Please make sure that you SUBSCRIBE to our Youtube channel. Don't just listen to our shows, we want you to subscribe to our channel.
If you like our show, please share our shows and our channel to your friends on Twitter, on Facebook, wherever you can. That helps us a lot!
Finally, if you're listening to us on any of the podcast platforms, like on your mobile phone, Android, iPhone, whatever, or you use Spotify, then consider leaving a good review as it helps improve our rating and ability to reach more people.
Finally, we are active on Twitter and Facebook, so please follow us on Twitter, join our Facebook Group and Like our Facebook Page. That helps us a lot!
Thanks in advance, and we love it when our listeners remain in touch with us.
OK, on to our show. This week we're going to talk about the following major topics:
<![if !supportLists]>● <![endif]>Yerevan Protests Continue
<![if !supportLists]>● <![endif]>State of the Negotiations on Artsakh
<![if !supportLists]>● <![endif]>MPG Gallup Poll Results
To talk about these issues, we have with us:
Benyamin Poghosyan, who is the Chairman of the Yerevan based think tank Center for Political and Economic Strategic Studies.
<![if !supportLists]>● <![endif]>A quick note to our listeners about Dr. Poghosyan. We talk to him often and our listener feedback about his insight and clarity is 100% positive. Dr. Poghosyan is one of the most prolific analysts in the South Caucasus, and if you want advance access to his material, he has a Patreon account. You can support him, as well as get to his articles immediately after he publishes them.
Topics This Week
Yerevan Protests Continue
OK let's go to our first topic. This past week the opposition continued its rallies and protests unabated. There was focus on the judicial side with the parents of fallen soldiers of the 44-day war seeking justice for their losses; and the week culminated with a large rally on June 3rd, the date on which the opposition had demanded an emergency session of the national assembly, to get a vote by all parliamentary parties on where they stood on the issue of the Nagorno Karabakh's status.
Needless to say, Civil Contract scuttled that vote. The ensuing opposition rally was very large, and police tried to close multiple streets and intersections, and started cracking down, arresting, and severely injuring dozens of protesters, completely unprovoked! We also saw videos of the red berets getting pretty upset with the black beret police, who were unnecessarily beating protesters.
<![if !supportLists]>● <![endif]>How do you read the domestic politics in Yerevan?
<![if !supportLists]>● <![endif]>Is the entire domestic upheaval a one-issue crisis? Is it truly all about the status of Artsakh, or are there other, more hidden issues that are fanning the flames?
Some analysts have said that the opposition today is using the same, or similar tactics to what Pashinyan used in 2018.
<![if !supportLists]>● <![endif]>Is what's going on today reminding you of 4 years ago?
On Groong, we continue to see in member comments the deep polarization in Armenian society. There is strong support for the opposition movement, but there are still many pro-Pashinyan comments, and they have the same themes that they had for the past 4 years. For these protests, they maintain that this is a Nakhkin-led attempt to return to power; others say that this is an ARF-led coup attempt, etc.
<![if !supportLists]>● <![endif]>Do these 4-year-old talking points hold any water today?
<![if !supportLists]>● <![endif]>Where is this movement headed, what is your sense of the protest movement?
<![if !supportLists]>● <![endif]>Why do you think they're getting 20-30 thousand people, and not 100, 200 thousand people? And is having 100 or 200K people going to help, in your opinion?
As a reminder, we have almost daily discussions related to the protests in France Square on Twitter, using the Twitter Spaces feature. We feature interesting guests, almost anyone we can find hanging out on the square or related to the resistance movement. For instance, last week we featured an interview with the wife of Avetik Chalabyan, Anahit Adamyan.
So please make sure to follow us on Twitter to be notified when we start the live discussions.
State of the Negotiations on Artsakh
The negotiations between Armenia and Azerbaijan are now taking place under the auspices of EU co-president Charles Michel. On May 23rd, Pashinyan and Aliyev announced their border demarcation commissions, and these commissions have now met a couple of times.
As negotiations continue, Aliyev has kept up his rhetoric of victory, claiming that Pashinyan agreed to opening a "Zangezur corridor". Pashinyan denied this, and Charles Michel confirmed him. But Michel also had to backtrack on statements he had made (on May 23) that undermined Nagorno-Karabakh's right to self-determination.
<![if !supportLists]>● <![endif]>What are the dynamics of the negotiation process under EU auspices?
Artak Beglaryan, Artsakh's minister of state, stated that the Nagorno-Karabakh Republic does not accept the EU as a mediator. Other declarations have also started to indicate a potential difference in the policies of Stepanakert and Yerevan.
<![if !supportLists]>● <![endif]>Is a real divergence emerging between Armenia and Artsakh, or is this part of a coordinated political strategy?
Russian Foreign Minister Lavrov will be in Ankara this coming week, to discuss the wide range of issues between the two countries. The issue of Artsakh is also on the table. He is also slated to visit Armenia on June 9.
<![if !supportLists]>● <![endif]>In the context of the co-operations and competitions between these two countries, what is the status of Nagorno Karabakh, as a "tradable asset"?
MPG Gallup Polls
At the end of April, MPG Gallup International, an Armenian marketing organization, ran one of its periodic social surveys. It polled 1002 people around Armenia and estimates an error margin of +/- 3%.
The questions focused on Armenia's diplomacy, especially the results of the recent meeting in Brussels between Aliyev, Pashinyan, and Charles Michel.
To bring up just a few data points:
<![if !supportLists]>● <![endif]>More than 50% had a negative or very negative view of the results of the meeting in Brussels.
<![if !vml]>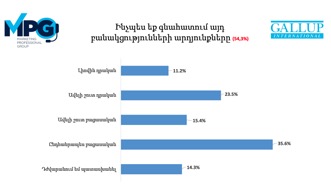 <![endif]>
<![if !supportLineBreakNewLine]>
<![endif]>
<![if !supportLists]>● <![endif]>A vast majority (89.3%), indicated that a status of Artsakh within Azerbaijan is unacceptable, while only 4.4% said such a status could be acceptable.

<![if !vml]>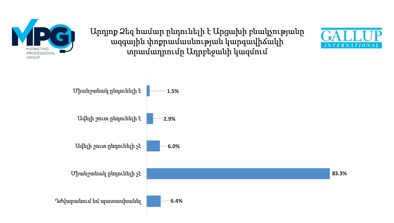 <![endif]>
<![if !supportLineBreakNewLine]>
<![endif]>
Was anything particularly interesting or surprising?
Topics from the Panelists
<![if !supportLists]>·

<![endif]>Benyamin - Inflation seemingly disconnected from the value of Dram
Wrap-up
That was our Week in Review show, and we hope it helped you catch up with some of the issues in and around Armenia from this past week. As always, we invite your feedback and your suggestions. You can find us on most social media and podcast platforms, or our website Groong.org.
Thanks to Laura Osborn for the music on our podcasts. Don't forget to subscribe to our channel on YouTube, Like our pages and follow us on social media. On behalf of everyone in this episode, we wish you a good week, thanks for listening and we'll talk to you next week.
<![if !supportLists]>●

<![endif]>
Facebook Page:
ANN - Groong
<![if !supportLists]>●

<![endif]>
Twitter:
@groong
<![if !supportLists]>●

<![endif]>
Reddit:
r/Groong
<![if !supportLists]>●

<![endif]>
Instagram:
ANNGroong
<![if !supportLists]>●

<![endif]>
Website:
Groong.org
<![if !supportLists]>●

<![endif]>
Podcasts: Apple, Google, Spotify, Amazon and more.
Search your preferred Podcast platform!
Subscribe and

Listen

to us on...
<![if !vml]><![endif]><![if !vml]><![endif]><![if !vml]><![endif]><![if !vml]><![endif]><![if !vml]><![endif]>
Keywords
Benyamin Poghosyan, Armenia, Artsakh, Nagorno Karabakh, Azerbaijan, EU, European Union, Nikol Pashinyan, Charles Michel, Artak Beglaryan, Toivo Klaar,