Armenian News Network / Groong
Guests
<![if !supportLists]>● <![endif]>Benyamin Poghosyan
Hosts
<![if !supportLists]>● <![endif]>Hovik Manucharyan
<![if !supportLists]>● <![endif]>Asbed Bedrossian
Introduction
Hello, and welcome to the Armenian News Network, Groong, Week in Review. This show was recorded on Monday, February 14, 2022. We were originally going to record 24 hours earlier when the February 13 (2022) earthquake hit northern Armenia, and we had to postpone in order to give our team time to assure the safety of family, friends and loved ones. We note with interest that exactly one year ago, on February 13, 2021, there was also an Earthquake in Armenia, near Noubarashen. We covered Armenia's Earthquake Readiness in our Podcast episode 50 discussion with Prof. Armen Der Kiureghian, and came away with the impression that Armenia is not ready for a big earthquake, a third of a century after the great December 1988 Earthquake near Spitak.
Here's what we'll talk about this week:
<![if !supportLists]>● <![endif]>8 more POWs released, but at what cost? This week, with the mediation of the EU, 8 more of our prisoners were released by Azerbaijan. At the same time the EU approved an EUR 2B financial aid package for Baku. What's the deal?
<![if !supportLists]>● <![endif]>The parliamentary commission on the 44-day war is established. There is some movement in the national assembly to start investigating the war, but the opposition is boycotting. What is to be expected from this commission?
<![if !supportLists]>● <![endif]>Authoritarian power-grab continues while the EU praises Armenia's "Democracy". We'll talk about the continuing saga of jailed opposition mayors and persecution of those judges who would release them. The opposition also tried to shine a spotlight this week on the EU Ambassador to Armenia who has refused to speak out against these undemocratic processes.
<![if !supportLists]>● <![endif]>Who needs Armenia? This question from Lukashenko sparked a firestorm in local politics, but is the vitriolic speech by the Belarus leader masking another important discussion?
<![if !supportLists]>● <![endif]>Lastly, there's a new MPG Poll of Yerevan residents. What do Yerevan residents think about Hayk Marutyan's ouster, resignation of Armen Sarkissian and other topics? We'll go over some of the interesting results.
Today we have with us:
Benyamin Poghosyan, who is the Chairman of the Yerevan based think tank Center for Political and Economic Strategic Studies,
Topics This Week
Events in and around Armenia are accelerating weekly. While keeping our eye on global developments related to the Russia vs. The West standoff in the Crisis around Ukraine, we will focus mostly on internal events, despite troubling media fear mongering around a possible war in Ukraine. Just today Biden said "the door to Diplomacy is still open", as if a countdown clock to war has started.
What Was

The

Price of 8 Armenian POW's?
On Friday February 4, Prime Minister Pashinyan and President Aliyev had a teleconference summit facilitated by French President Emmanuel Macron and European Council President Charles Michel. Following this, on Monday February 7, Azerbaijan released 8 Armenian POWs; four servicemen who were captured in November 2021, and four in December 2020 after the official end of the 44-day war. Note, that Azerbaijan has repeatedly stated that there are no prisoners of war in its custody. Yet, more and more turn up as part of negotiations.
<![if !supportLists]>● <![endif]>What were the topics discussed at the summit on February 4?
<![if !supportLists]>● <![endif]>What agreements were reached?
Also on February 4, the EU announced a $2 billion financial aid package for Azerbaijan, as part of an economic investment plan, and readiness to participate in the reconstruction and rehabilitation of lands recovered since the 44-day war.
<![if !supportLists]>● <![endif]>Why does Azerbaijan, which is flush with petrodollars, need billions of aid from the EU?
We know the EU is desperate to stay relevant in the South Caucasus, and keep its foot in the negotiations in one form or another, either through the OSCE MG, or otherwise.
<![if !supportLists]>● <![endif]>Are the 2 billion Euros a quid pro quo for Azerbaijan to keep negotiating through the West, rather than just through Russia? Aliyev had complained 2 months ago that the balance of EU aid to Armenia and Azerbaijan was grossly unfair, hinting perhaps that he needs to see some money, or he might stop negotiating through the EU.
<![if !supportLists]>● <![endif]>Does Russia care, or is it opposed to the EU's efforts in the South Caucasus?
<![if !supportLists]>● <![endif]>Where is the US in all this?
Parliamentary Commission on the 44-Day War
This week, six months into its term, the National Assembly appears to finally be moving towards creating a commission to investigate the 44 day war. The media and the public were first informed about this not through the media department of the NA or Andranik Kocharyan, the chairperson of the "Standing Committee on Defense and Security" under whose auspices the commission is said to be slated for creation. Instead, it was announced on Thursday afternoon on the Facebook page of the Civil Contract party.
Azatutyun reported the following day that the commission will comprise 11 members. 7 of the seats for Civil Contract and 4 seats slated for the parliamentary opposition who immediately announced that they would boycott the commission since this format will not allow a balanced investigation and will only be used to whitewash the activities of the current regime.
There were other ideas on how to do this. In our Podcast Episode 82 we discussed with experts and scholars who suggested that an independent fact-finding commission may be more appropriate.
We also know that Edmon Marukyan from the Bright Armenia party had suggested a parity–based (պարիտետային in armenian) fact-finding commission.
Meanwhile, the parliamentary opposition argued that even if such a commission is created within the framework of the Standing Committee on Defense and Security, it should be led by the opposition in order to maintain checks and balances, something which - they argue - is the essence of parliamentary democracies.
<![if !supportLists]>● <![endif]>What expectations could we have of this commission?
<![if !supportLists]>● <![endif]>What are the advantages and disadvantages of this plan, in comparison to some of the others mentioned above?
Until now, Civil Contract had blamed the opposition for repeatedly nominating the same person, Arthur Ghazinyan as vice chairperson of the standing committee and thus delaying the creation of the commission. Ghazinyan's nomination was rejected 17 times by the standing committee members. The standing committee still doesn't have a vice chair, but the ruling party is pushing things forward unilaterally.
Armenia's Degrading Democracy
Mayors

Arushanyan

and

Aslanyan

Remain

In

Jail
The Armenian Court of Appeals decided last week to not release Arush Arushanyan, the mayor of Goris who was reelected in June 2021. The court also decided to not release the reelected mayor of Vanadzor Mamikon Aslanyan. Both politicians endorsed the Hayastan (Armenia) Alliance during the June 2021 elections, and since then have been hounded with various charges of vote buying, corruption, and so on.
Of three other reelected mayors, two have been released, while Manvel Paramazyan was released, then re-jailed. The judge who had made the decision to release Paramazyan (and subsequently Ashot Minasyan) was arrested under what many argue are trumped up charges. Meanwhile in Vardenis, Aharon Khachatryan hasn't been allowed into the government building to start the mayor's work he was elected to do.
Outgoing Ombudsman Arman Tatoyan has spoken against these jailings and pointed to the government for denying the rights of duly elected opposition leaders. The opposition is up in arms, and more than once now Armenia has been slammed by Freedom House NGO for its degraded democracy due to government misbehavior.
<![if !supportLists]>● <![endif]>Where is all this headed?
New Law

To

Reign In Independent Judges?
This week, the Civil Contract-controlled parliament held a short session with a few items on the agenda. As part of last-minute amendments, the ruling regime made changes to the law governing how the Supreme Judicial Council can discipline judges.
Previously, the SJC required 7 out of 10 judges in order to allow for criminal prosecution of judges in Armenia. Now, that threshold has been reduced to only 5 members. It should be noted that 5 of the SJC members are nominated by parliament while the other 5 are elected by the judges themselves.
This effectively gives parliament-appointed judges the potential to help initiate criminal proceedings, which the opposition claims will be used to harass and persecute judges who may fall out of line with the ruling regime. This happened only 2 days after judge Bakhshiyan was arrested, allegedly in retaliation for freeing Ashot Minasyan (and Paramazyan). We discussed this issue with Ruben Melikyan, former human rights ombudsman of Artsakh,  in Episode 117 a week ago.
This seems to be a real blow to judicial independence in Armenia.
<![if !supportLists]>● <![endif]>What is motivating Pashinyan and Civil Contract to be so obsessed with absolute control?
<![if !supportLists]>● <![endif]>Is there a legitimate reason for making such changes?
Opposition Protest of EU Ambassador
On Thursday, opposition members held a protest aimed at the EU Ambassador to Armenia, Andrea Wiktorin. At issue is that despite international NGOs reaffirming their statements decrying the Degrading Norms of Democracy in Armenia, Wiktorin does not see any issues with the Judicial system, and has turned a blind eye to the government's pressure on judges, to parliamentarians verbally bullying reporters and passing legislation limiting freedoms of press and expression, and more.
Two weeks ago the EU passed a resolution praising Armenia for its "commitment" to democracy that mentioned nothing of the jailing of opposition mayors, attacks against free speech by passing repressive laws, and the selective use of those laws to protect mainly Pashinyan and the ruling regime.
<![if !supportLists]>● <![endif]>Is the EU giving Pashinyan a carte blanche in internal Armenian politics?
<![if !supportLists]>● <![endif]>What's Pashinyan's end of the bargain?
Who Needs Armenia?
In an interview on Russian Television, Belarus president Alexander Lukashenko foreshadowed that Moscow would try to build what he called, a "Union of Sovereign States," which of course evokes a reincarnation of the Soviet Union, and that Armenia would have no choice but to join it. He said: "Armenia has nowhere else to go, … do you think anyone needs them?"
Are such undiplomatic and off-the-cuff expressions unique to Lukashenko or a result of the absence of respect many statesmen have today towards Armenian leadership and by extension Armenia, which lost all of its geopolitical significance by losing the 44-day war in 2020, losing control of Artsakh, and since then bungling its negotiations with Azerbaijan and Turkey, losing its sovereign territory and putting its people and independence at risk? The only thing Armenia hasn't lost is the leadership that lost the war and is now losing the peace.
<![if !supportLists]>● <![endif]>Does anyone need Armenia? OK, less provocatively asked: is this potential "Union of Sovereign States", which we're having fun calling the "new USSR" (Union of Sovereign States around Russia) needs Armenia in the union, and if so does Armenia have a choice or alternative to joining it?
<![if !supportLists]>● <![endif]>Benyamin, in your most recent paper, you discussed how the US rejoining the Iran Nuclear Deal, also known as the JCPOA, can revive Armenia's north-south corridor politics. Is this an opportunity for Armenia to regain some modicum of control over its direction?
New MPG Poll on Yerevan
The polling outfit MPG released the results of its newest poll of Yerevan residents. A potpourri of questions were asked ranging from municipal issues to geopolitics. We will focus on the latter today.
But first…
Methodology
<![if !vml]>

<![endif]>
Hayk

Marutyan's

Ouster
On December 16, the Yerevan avagani held a no-confidence vote against Hayk Marutyan, one of the icons of Pashinyan's "Velvet Revolution'' of 2018.
When asked if Yerevan residents approved of this move, only about 11% (3.9% - fully, 6.9% somewhat) said "yes". And 25% had difficulty responding. But a resounding 72.4% were against this.
<![if !vml]>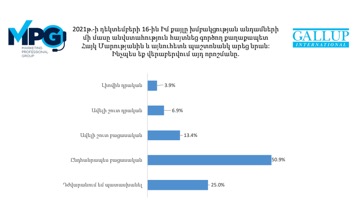 <![endif]>
Armenia-Turkish Relations
Over 62% are against opening the border.
However, 38% support removing the ban on import of Turkish products.
<![if !vml]>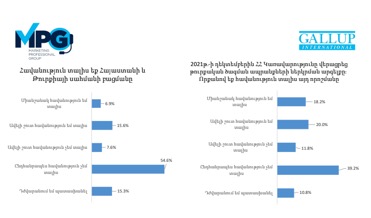 <![endif]>
Topics from the Panelists
<![if !supportLists]>1.

<![endif]>Hovik - "

Spy Network

"? [

1

]
<![if !supportLists]>2.

<![endif]>
Benyamin - No Ukraine Invasion Soon
Wrap-up
That was our Week in Review show, and we hope it helped you catch up with some of the issues in and around Armenia from this past week. As always, we invite your feedback and your suggestions. You can find us on most social media and podcast platforms, or our website Groong.org.
Thanks to Laura Osborn for the music on our podcasts. Don't forget to subscribe to our channel on YouTube, Like our pages and follow us on social media. On behalf of everyone in this episode, we wish you a good week, thanks for listening and we'll talk to you next week.
<![if !supportLists]>●

<![endif]>
Facebook Page:
ANN - Groong
<![if !supportLists]>●

<![endif]>
Twitter:
@groong
<![if !supportLists]>●

<![endif]>
Reddit:
r/Groong
<![if !supportLists]>●

<![endif]>
Instagram:
ANNGroong
<![if !supportLists]>●

<![endif]>
Website:
Groong.org
<![if !supportLists]>●

<![endif]>
Podcasts: Apple, Google, Spotify, Amazon and more.
Search your preferred Podcast platform!
Subscribe and

Listen

to us on...
<![if !vml]><![endif]><![if !vml]><![endif]><![if !vml]><![endif]><![if !vml]><![endif]><![if !vml]><![endif]>
Keywords
Benyamin Poghosyan, Armenia, Azerbaijan, Nikol Pashinyan, Spy Network, Arush Arushanyan, Mamikon Aslanyan, War Commission, 44-Day War, MPG, Gallup International, Freedom House, Degrading Norms of Democracy, Judicial Independence, Bakhshiyan, Russia, North South Corridor, Alexander Lukashenko, JCPOA, United States, Iran, EU, European Union, USA, USSR, new USSR, Union of Sovereign States,