Armenian News Network / Groong
Guest
<![if !supportLists]>● <![endif]>Pietro Shakarian
Hosts
<![if !supportLists]>● <![endif]>Hovik Manucharyan
<![if !supportLists]>● <![endif]>Asbed Bedrossian
Introduction
Hello, and welcome to the Armenian News Network, Groong, Week in Review. This show was recorded on Tuesday, February 8, 2022.
This week we're going to talk about the following major topics:
<![if !supportLists]>● <![endif]>The Continuing Crisis in Ukraine
<![if !supportLists]>● <![endif]>Civil Contract Nominates Vahagn Khachatryan for President
<![if !supportLists]>● <![endif]>New IRI Poll Results
To talk about these issues, we have with us:
Dr. Pietro Shakarian, who is a Lecturer in History at the American University of Armenia in Yerevan. His research focuses on the history of Soviet Armenia and the Caucasus.
Topics This Week
The Continuing Ukraine Crisis
A Game of Chicken Kiev?
First last week, the top story is once again (you guessed it!) Ukraine.  In the latest episode there are widespread reports in the American and British press of an imminent Russian invasion of Ukraine.  Bloomberg News posted an alarming headline on Friday at 4 PM (US Eastern time), stating that Russia had in fact actually invaded Ukraine.  After remaining on the Bloomberg website for about a half-hour, the news agency removed the "report" and apologized for the "error." On the part of Moscow, Dmitry Polyanskiy, Russia's First Deputy Permanent Representative to the UN, referred to the "invasion" rhetoric in the US and UK media as "madness and scaremongering."
Meanwhile, Ukraine has stressed it also wants to dial down the rhetoric, with President Zelensky personally telling President Biden to take a chill pill and "tone down" the talk of a potential "Russian invasion" of Ukraine. "I'm the President of Ukraine, I'm based here [in Kiev], and I think I know the details deeper than any other President," Zelensky said.
Meanwhile, the US and NATO responses to Russia's calls for an end to NATO expansion were leaked to the media this past week.
Pietro: Where is continental Europe on this issue? Where do you see this situation heading? Is this all a big game of chicken (kiev), or will cooler heads prevail? 
Putin in Beijing
If you watched the Winter Olympic opening ceremonies in China, you saw a smiling Vladimir Putin in attendance. Meanwhile the US and many western countries sent their athletes to the games, but have not sent any government officials as a "diplomatic boycott" of the games.
While in China, Putin has inked $117 billion in energy deals between Russia and China.
The economic deals between Moscow and Beijing are already very significant. But what do they mean in political terms?
<![if !supportLists]>● <![endif]>The gas will be priced in Euros, not Dollars.
Beijing has stressed that it fully supports Moscow's position on Ukraine and its opposition to NATO expansion, while India abstained from voting against Russia. In addition, India has indicated that it is leaning toward Moscow on the Ukraine issue. What do these latest moves indicate?
Olympic diplomacy?
Apparently no Armenian officials are at the Olympic games.
According to Suren Sargsyan, this puts Armenia in the "Western" camp by effectively joining the diplomatic boycott.
These are the winter Olympics, are we reading too much into this, or is this actually something that Russia will note?
Erdogan in Kiev
Meanwhile Turkish president Erdogan is also not at the Olympics. He was in Ukraine slamming the west for being unable to resolve the Ukraine crisis, and offered to host a summit of the presidents of Ukraine and Russia.
Erdogan also signed a free trade deal with Ukraine, and expanded the defense agreement between the two countries to allow Ukraine to build Turkish drones itself.
Nuanced, strategic, or double-faced politics? How will Russia see Turkey's wheeling and dealing?
The Manchurian Candidate
Civil Contract Nominates a New Candidate for President
Speaking of presidential wheelings and dealings, let's go to Armenia.
As President Armen Sarkissian's resignation became official Parliament Speaker Alen Simonyan took over as the acting president, while his deputy speaker Hakob Arshakyan became the interim speaker of the parliament.
As of a few days ago, the ruling Civil Contract party picked Pashinyan loyalist Vahagn Khachatryan, who was most recently the minister of High-Tech Industry, as their candidate to become the next president of Armenia. Meanwhile the opposition said that they won't be nominating anyone and will boycott the vote.
<![if !supportLists]>● <![endif]>What is Khachatryan's track record as minister of High-Tech?
<![if !supportLists]>○ <![endif]>He was Mayor of Yerevan in the early-to-mid 1990s. What are the main expectations of him by Pashinyan and his ruling party?
<![if !supportLists]>○ <![endif]>Background: Khachatryan used to be a member of the board at Khachatur Sukiasyan's bank before this. As Mayor he sold the building for SIL plaza (Grzo's company) to Grzo for $5655 (it is worth millions today), and comes with a reputation for corruption.
<![if !supportLists]>○ <![endif]>Khachatryan resigned from Levon Ter-Petrosyan's ANC party.
<![if !supportLists]>● <![endif]>What can a president do, and what can a Khachatryan presidency accomplish?
<![if !supportLists]>● <![endif]>There were some rumors that a more loyal Civil Contract candidate was rejected by Pashinyan in favor of Khachatryan, who is frequently thought of as Khachatur Sukiasyan's loyalist. We know that Pashinyan had said that he wants someone loyal as the president. Is this a political risk for him?
<![if !supportLists]>● <![endif]>Some argue that the opposition is being negative and could play a more positive role by attempting to nominate someone, even if there's no chance that the nominee would pass. Is the opposition's boycott the best strategy?
<![if !supportLists]>● <![endif]>Yet again, the ministry of High Tech Industry remains rudderless. Khachatryan is the third minister in 10 months.
<![if !supportLists]>○ <![endif]>Khachatryan was already under attack as being "unqualified" for the position before.
<![if !supportLists]>○ <![endif]>What kind of messaging can this send to the public?
New IRI Poll Results
This week a new International Republican Institute (IRI)  report came out based on data collected between the end of November and early December. Varuzhan Geghamyan, who is a regular guest on this podcast, did an in-depth analysis of the results on Twitter.
Let's go over some of the main points.
First, who is the IRI?
Country Direction
<![if !supportLineBreakNewLine]>
<![endif]>
Only 34% believe the country is going in the right direction, down from 41% in July 2021.

<![if !vml]>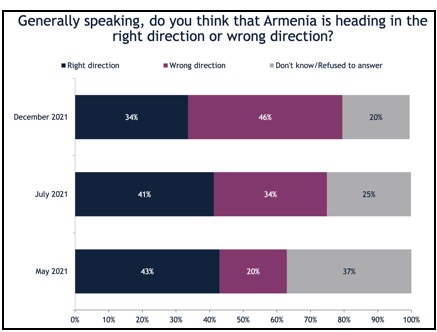 <![endif]>
Security Threats
Overwhelming majority see Turkey and Azerbaijan (88% and 81%) as the top security threats to Armenia.

<![if !vml]>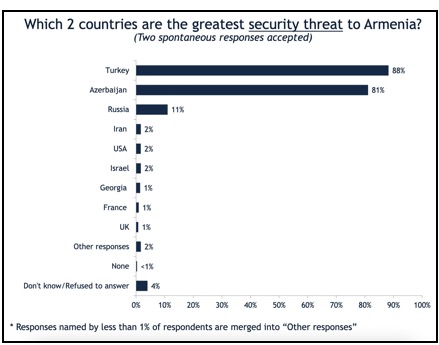 <![endif]>
<![if !supportLineBreakNewLine]>
<![endif]>
Improving Relations
Only 5% and 4% respectively think that relations with Turkey and Azerbaijan need to be improved. The list of countries with which relations should be improved is topped by Russia, USA, Iran, France, and China (in that order).

<![if !vml]>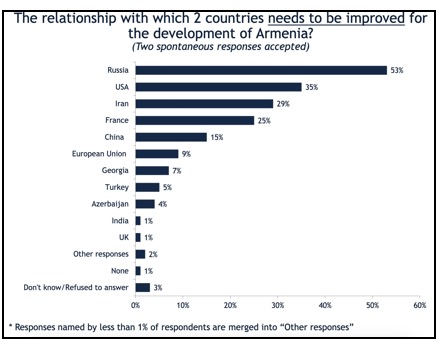 <![endif]>
<![if !supportLineBreakNewLine]>
<![endif]>
Dialogue with Turkey
A vast majority >70% respectively said that Armenia should establish relations with Turkey while simultaneously pursuing international recognition of the Armenian Genocide (73%) or even putting forth its own preconditions (70%).
We also note that the IRI poll does not ask questions about balancing dialogue with Turkey vs pre-conditions.


<![if !vml]>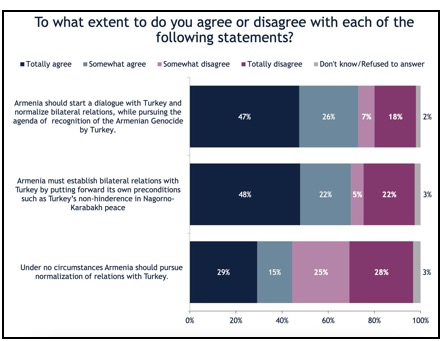 <![endif]>

Satisfaction with the PM Office
Polls continue to indicate that Pashinyan has the most support from the higher age groups, those in the regions, and those who are most poor.
However, the results from the previous slides show a logical outcome in the results of the dissatisfaction with the PM Office: with the greater agreement that the country is going in the wrong direction; and the extreme consolidation of opinion that Turkey and Azerbaijan are the greatest threats - while Armenia is attempting unconditional dialogue with them; and with majority agreement that relations with Armenia's strategic partner Russia need to be improved, indicating that they are at an unsatisfactory level at present; we see that people's disapproval of the government leadership has increased.


<![if !vml]>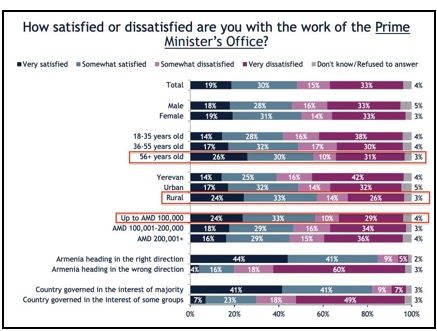 <![endif]>
Topics from the Panelists
<![if !supportLists]>1.

<![endif]>
Pietro -
Eye sore in the center of Yerevan
<![if !supportLists]>2.

<![endif]>
Hovik -
New
proposed law
in Artsakh on occupied territories
Wrap-up
That was our Week in Review show, and we hope it helped you catch up with some of the issues in and around Armenia from this past week. As always, we invite your feedback and your suggestions. You can find us on most social media and podcast platforms, or our website Groong.org.
Thanks to Laura Osborn for the music on our podcasts. Don't forget to subscribe to our channel on YouTube, Like our pages and follow us on social media. On behalf of everyone in this episode, we wish you a good week, thanks for listening and we'll talk to you next week.
<![if !supportLists]>●

<![endif]>
Facebook Page:
ANN - Groong
<![if !supportLists]>●

<![endif]>
Twitter:
@groong
<![if !supportLists]>●

<![endif]>
Reddit:
r/Groong
<![if !supportLists]>●

<![endif]>
Instagram:
ANNGroong
<![if !supportLists]>●

<![endif]>
Website:
Groong.org
<![if !supportLists]>●

<![endif]>
Podcasts: Apple, Google, Spotify, Amazon and more.
Search your preferred Podcast platform!
Subscribe and Listen to us on...
<![if !vml]><![endif]><![if !vml]><![endif]><![if !vml]><![endif]><![if !vml]><![endif]><![if !vml]><![endif]>
Keywords
Pietro Shakarian, Armenia, Ukraine, Russia, Turkey, IRI Polls, International Republican Institute, National Democratic Institute, Ukraine Crisis, Winter Olympics, Olympics 2022, China, Joe Biden, Vladimir Putin, Volodymyr Zelensky, Recep Erdogan, Nikol Pashinyan, Energy Deals, Defense Agreement, Yerevan, Nor Yerevan, Artsakh, Nagorno Karabakh,