Armenian News Network / Groong
Subscribe and

Listen

to us on...
<![if !vml]>

<![endif]><![if !vml]>

<![endif]><![if !vml]>

<![endif]><![if !vml]>

<![endif]><![if !vml]>

<![endif]>
Guests
<![if !supportLists]>● <![endif]>Benyamin Poghosyan
<![if !supportLists]>● <![endif]>Pietro Shakarian
Hosts
<![if !supportLists]>● <![endif]>Hovik Manucharyan
<![if !supportLists]>● <![endif]>Asbed Bedrossian
Introduction
Hello, and welcome to the Armenian News Network, Groong, Week in Review. We're recording this show a couple of days late on January 11th, 2022.
This week we're going to talk about the following major topics:
<![if !supportLists]>● <![endif]>Color Me Kazakhstan
<![if !supportLists]>● <![endif]>Normalization Meeting on January 14
To talk about these issues, we have with us:
Benyamin Poghosyan, who is the Chairman of the Yerevan based think tank Center for Political and Economic Strategic Studies,
And
Pietro Shakarian, who is a Lecturer in History at the American University of Armenia in Yerevan. His research focuses on the history of Soviet Armenia and the Caucasus.
Topics This Week
Color Me Kazakhstan
A week ago, in Kazakhstan the doubling of the price for Liquified Natural Gas scheduled for the 1st of January, gave rise to a popular movement sending large numbers of protesters on the streets of the capital. Initially, the government acceded to the demands and promised to continue subsidizing the price of gas, but protests took a violent turn when rioters began to attack police and other law enforcement agency headquarters.
While local forces struggled to quell the riots and control the situation, Kazakh President Kassym-Jomart Tokayev applied to the CSTO for additional forces to stabilize the domestic situation. He hinted that the rioters were organized through a "conspiracy of internal and external forces", interested in bringing about a colored revolution in Kazakhstan.
Who, What, When,

Where,

Why?
<![if !vml]>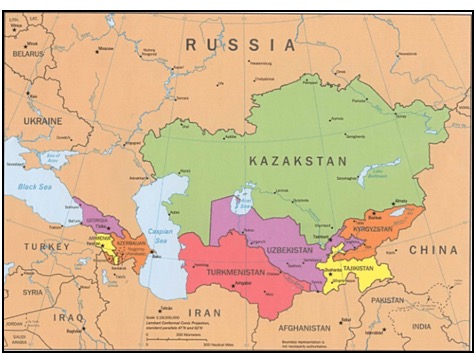 <![endif]>
Where is Kazakhstan, why do these events matter, and particularly for Armenians?
Are the protests a truly "democratic" movement? Is what's going on in Kazakhstan a "colored revolution"?
Armenia's Response
Armenia has the chairmanship of the CSTO in 2022. As such, PM Pashinyan had to take the lead in responding to President Tokayev's request for help. In CSTO's swift response to help Tokayev, Pashinyan also included 100 Armenian servicemen, and he has been slammed for that both domestically and also externally.
Did he do the right thing? Could there have been a more appropriate response by Armenia?

Military expert Karen Vrtanesyan recently pointed out that Armenia's NSC chairman Armen Grigoryan has essentially explained why Armenia sent servicemen to help control Kazakhstan's domestic unrest: it's because the Armenian government wants to show by example the kind of response it wants to see, when and if it becomes destabilized with political unrest. What do you think?
What is the current status? It seems that Nazarbayev is out and if things continue to stabilize then Tokayev will consolidate absolute power in Kazakhstan.
Russian Response
For Russia, having stability in central Asia is of paramount importance and some say that the loss of Kazakhstan to a "color revolution" could be catastrophic.
But let's go back a little bit and understand the state of Russian-Kazakh relations prior to this incident. What was the nature of geopolitical relations between the two countries?
In a tweet shortly following the incident, Margarita Simonyan, Editor in Chief of RT and also believed to be Putin's unofficial spokesperson wrote in a Tweet that Russia and the CSTO should help Kazakhstan, but also that Russia should put forth a number of conditions on Kazakhstan, such as:
<![if !supportLists]>● <![endif]>Recognition of Crimea
<![if !supportLists]>● <![endif]>Return to the Cyrillic alphabet
<![if !supportLists]>● <![endif]>Make Russian the 2nd national language (like Kyrgyzstan)
<![if !supportLists]>● <![endif]>Reduce pressure on Russian schools
<![if !supportLists]>● <![endif]>Oust anti-Russian NGOs
<![if !supportLists]>● <![endif]>Stop playing games with "Nazists" in internal politics
What are Russia's interests in all this, do Simonyan's points unofficially hint at Russia's demands of Kazakhstan? How does this bode for the future of Russia-Kazakhstan relations?
If the situation continues to stabilize, where does that leave Nazarbayev, and Tokayev?
Turkish Response
Erdogan offered support for the Kazakh government and announced that the issue of Kazakhstan will be discussed at the Council of Turkic Countries meeting in Baku that is happening this week.
Turkey would love an opportunity to increase its influence in Kazakhstan, but do they have a long-enough arm to do this? Can it sustain yet another military confrontation with Russia, especially with its economy in tatters? What are Ankara's interests here?
Azerbaijani Response
Official Baku's reaction to all this has been very reserved. But Azerbaijan never lets go of an opportunity to score points against Armenia. Armenian media reported that Azerbaijani fake accounts were spreading rumors that Armenian troops in Kazakhstan will commit a "2nd Khojaly" there.
Is Baku's being strategic, or opportunistic? Does it have anything to gain or lose depending on how things work out in Kazakhstan?
US and Western Response
The events in Kazakhstan seem to be concerning all major world powers. While some Western governments have called for peace, and none appear to explicitly support the armed groups fighting the Kazakh government, some have gone a little further to complain about Russia's and CSTOs military involvement.
US Secretary of State Anthony Blinken publicly proclaimed to reporters that: "...one lesson in recent history is that once Russians are in your house, it's sometimes very difficult to get them to leave."
The US Embassy in Baku, quoting Blinken and in an apparent reference to CSTO sending troops to Kazakhstan, sent out a tweet saying that: NATO did not invade Georgia, Ukraine, nor Moldova "against the will of its peoples". Of course, maybe the Twitter character limitation did not allow the US Embassy in Baku to comment on NATO's activities in Afghanistan, Syria, Iraq, Libya, Serbia, Somalia… Did I miss anything?
These public statements are especially interesting in light of the public Russia-US friction that we're observing.
Q: But besides public statements, what can the West and NATO do about Kazakhstan? Are there desired outcomes or less desired outcomes?
Additional points to write:
<![if !supportLists]>● <![endif]>US and Russia deputy foreign ministers met recently? Do you know if KZ was discussed and if so what?
<![if !supportLists]>● <![endif]>"Armenian boots" in Kazakhstan. Slammed domestically, slammed in Turkic countries.
<![if !supportLists]>● <![endif]>Azerbaijan's Fake News social media in action.
<![if !supportLists]>● <![endif]>What are the demographics of Kazakhstan like? What percentage of the population is Russian?
<![if !supportLists]>● <![endif]>Could these unrests turn ethnic?
<![if !supportLists]>● <![endif]>What has been the reaction of Baku?
Turkish-Armenian Normalization Meeting on January 14
Serdar Kilic and Rouben Rubinyan will be in Moscow on Friday, January 14th, for their first meeting of the Turkish-Armenian Normalization negotiations.
Your thoughts and expectations of this meeting, for any potential outcomes?
Topics from the Panelists
<![if !supportLists]>1.

<![endif]>
Benyamin - Progress in US/Iran (JCPOA) Negotiations
<![if !supportLists]>2.

<![endif]>
Pietro - The U.S. needs to talk with Russia
Wrap-up
That was our Week in Review show, and we hope it helped you catch up with some of the issues in and around Armenia from this past week. As always, we invite your feedback and your suggestions. You can find us on most social media and podcast platforms, or our website Groong.org.
Thanks to Laura Osborn for the music on our podcasts. Don't forget to subscribe to our channel on YouTube, Like our pages and follow us on social media. On behalf of everyone in this episode, we wish you a good week, thanks for listening and we'll talk to you next week.
<![if !supportLists]>● <![endif]>Facebook Group: Groong - Armenian News Network
<![if !supportLists]>● <![endif]>Facebook Page: ANN - Groong
<![if !supportLists]>● <![endif]>YouTube: Armenian News Network - Groong
<![if !supportLists]>● <![endif]>Twitter: @groong
<![if !supportLists]>● <![endif]>Telegram: Armenian News Network - Groong
<![if !supportLists]>● <![endif]>Reddit: r/Groong
<![if !supportLists]>● <![endif]>Instagram: ANNGroong
<![if !supportLists]>● <![endif]>Podcasts: Apple, Google, Spotify, and more. Search your preferred Podcast platform!
Keywords
Benyamin Poghosyan, Pietro Shakarian, Kazakhstan, Kazakhstan Protests, Central Asia, Kassym-Jomart Tokayev, Nursultan Nazarbayev, Armenia, Azerbaijan, South Caucasus, Turkey, Russia, Ukraine, Military reform, Armen Grigoryan, JCPOA, United States, Iran, Iranian Gas, Soviet Union, Post-Soviet, FSU, Mukhtar Ablyasov,